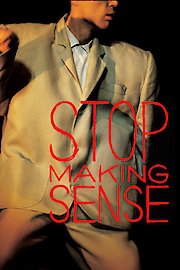 Watch Stop Making Sense
"Why stop making sense? Why a movie? Why a big suit? Where do the odd movements come from? What will the band do next?"
NR
1984
1 hr 28 min
89
David Byrne and the band Talking Heads star in this musical stage performance. Produced by Gary Goetzman and Gary Kurfirst to promote the Talking Heads album Speaking in Tongues, Stop Making Sense is performance art centered on music. At the opening of the movie, David Byrne walks out on stage, sets down a portable cassette player, presses play and performs the song Psycho Killer. The stage on which Byrne performs is empty and unfinished. As fellow members of the band Talking Heads join Byrne for consecutive songs, viewers see the stage being progressively built behind them. The completion of the stage set is accompanied by the song Slippery People. As accompanying artists fill the stage, the song Burning Down The House is performed. Guest artists include Bernie Worrell, Lynn Mabry and Alex Weir. Tina Weymouth joins Byrne on stage to perform a duo for the song Heaven. Weymouth's husband and co-creator, Chris Frantz joins the two on drums to perform the song Thank You for Sending Me an Angel. Jerry Harrison joins them on stage to perform the song Found a Job, completing the entire cast of the band Talking Heads. Stop Making Sense is directed by Jonathan Demme and is one of the first movies to use digital audio techniques. The backstage and its bright colors and signs accompanied by several costume changes help set the tone for each song. David Byrne accentuates the frantic rhythms of the Talking Heads music with his herky-jerky dancing. Different lighting techniques give an accompanying tone for each song and help illustrate the meaning of the music. This concert performance by Talking Heads includes all songs from the album Speaking in Tongues and a few songs from previous albums and side project Tom Tom Club. Stop Making Sense is distributed by Palm Pictures.