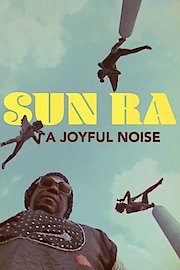 Watch Sun Ra - Sun Ra: A Joyful Noise
Sun Ra: A Joyful Noise is a 1980 documentary about the eccentric jazz musician Sun Ra and his musical ensemble known as the Arkestra. The film was directed by Robert Mugge, and it provides an intimate look at the life and creative process of Sun Ra, who was known for his experimental musical style and unconventional philosophy. The film opens with a montage of imagery that sets the tone for the rest of the film. We see shots of the cosmos, Egyptian hieroglyphics, and sunbursts, all accompanied by the hypnotic sounds of Sun Ra's music. It's clear from the outset that this is not going to be a typical documentary.
We soon learn that Sun Ra was born Herman Poole Blount in Birmingham, Alabama in 1914. He was a restless spirit from a young age, and he began playing piano at the age of three. By the time he was a teenager, he was already an accomplished musician and an avid reader of science fiction and philosophy.
In the 1950s, Sun Ra began to develop his unique style of jazz, which was heavily influenced by his interests in Afrofuturism, spirituality, and cosmology. He believed that he was an alien from another planet, and he saw his music as a means of transporting his listeners to other realms of existence.
The film follows Sun Ra and the Arkestra as they tour the United States, playing shows in dive bars, college campuses, and even prisons. We see footage of their performances, which are a mix of avant-garde jazz, free improvisation, and theatrical spectacle. Sun Ra often appears on stage in elaborate costumes, complete with headdresses, capes, and glittery makeup.
The film also includes interviews with members of the Arkestra, who provide insight into Sun Ra's personality and creative process. They describe him as a visionary who was always ahead of his time, and they talk about the challenges of playing in a band that was constantly experimenting and pushing boundaries.
One of the most interesting aspects of the film is the contrast between Sun Ra's otherworldly persona and the gritty reality of life on the road. We see the Arkestra crammed into a small van, sleeping in cheap motels, and struggling to make ends meet. Yet despite the hardships, they remain committed to their art and to Sun Ra's vision.
Throughout the film, Sun Ra expounds on his philosophy of the cosmos and humanity's place in it. He talks about the importance of love, creativity, and exploration, and he encourages his listeners to embrace their own inner weirdness. At times, his ideas seem far-fetched and even nonsensical, but there's no denying the passion and sincerity with which he expresses them.
The film's climax comes at a concert in New York City, where Sun Ra and the Arkestra play to a packed house of adoring fans. The performance is a mesmerizing spectacle of sound and color, with Sun Ra leading the band through a series of cosmic improvisations.
Sun Ra: A Joyful Noise is a fascinating portrait of a musical visionary and a band of dedicated artists. It's a film that celebrates creativity, individuality, and the power of music to transport us beyond the limitations of our earthly existence. Whether you're a fan of jazz or just interested in avant-garde art, this documentary is a must-see.
Sun Ra - Sun Ra: A Joyful Noise is a 2006 documentary with a runtime of 1 hour. It has received mostly positive reviews from critics and viewers, who have given it an IMDb score of 7.3.