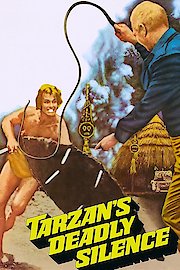 Watch Tarzan's Deadly Silence
"Guns, grenades and an army of men roar through the jungle to destroy the most dangerous animal alive...TARZAN!"
G
1970
1 hr 28 min
A bomb blast goes off and Tarzan is severely wounded. The sound of the bomb causes Tarzan to lose his hearing. To make matters worse, Tarzan must overcome being chased by a relentless colonel pursuing him. The jungle becomes a far more treacherous place for the hero.