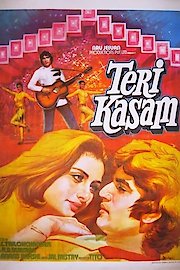 Watch Teri Kasam
Teri Kasam is a Hindi romantic drama directed by A. C. Tirulokchandar and produced by B. H. Patel. It stars Kumar Gaurav, Poonam Dhillon, and Girish Karnad in lead roles. The movie was released in 1982 and was a hit at the box office. The story revolves around Sunil (Kumar Gaurav), a young man who works in a factory and is in love with Sonia (Poonam Dhillon), a wealthy girl. Despite the differences in their social status, the two fall in love and decide to get married. However, Sonia's father, Mr. Kapoor (Girish Karnad), disapproves of their relationship and tries to break them apart.
Mr. Kapoor, a wealthy businessman, wants Sonia to marry someone of his choice and settle down with him. He tries to manipulate Sonia's feelings by using emotional blackmail and financial power. However, Sonia is determined to marry Sunil and stands up against her father's wishes.
The conflict between Sunil and Mr. Kapoor leads to a series of misunderstandings and tragic events. Sunil is accused of stealing money from the factory and is sent to jail. Meanwhile, Sonia faces opposition from her family and society for her choice of love. She struggles to keep her faith in Sunil alive and waits for him to return.
As the story unfolds, we see the characters facing their own challenges and learning important life lessons. Sunil learns to fight for justice and earns the trust of his fellow inmates in jail. Sonia learns to stand up for her beliefs and values, despite the opposition from her family and society. Mr. Kapoor realizes the importance of love and accepts Sunil as his son-in-law.
The film's music, composed by Laxmikant-Pyarelal, is a highlight of the movie. The romantic songs like "Tera Saath Hai Kitna Pyara" and "Yeh Teri Kasam" became popular among the audience and are still considered classics in Bollywood.
The performances of the lead actors lend depth and meaning to the characters they portray. Kumar Gaurav, who was a new face in Bollywood at that time, impressed the audience with his natural acting and charm. Poonam Dhillon, who was already an established actor, delivered a mature performance as Sonia. Girish Karnad, a veteran actor, brought depth and complexity to his role as Mr. Kapoor.
Overall, Teri Kasam is a heartwarming love story that explores the challenges of love and relationships in a complex society. It is a must-watch for anyone who enjoys romantic dramas with a social message.