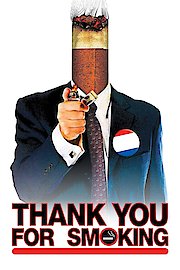 Watch Thank You for Smoking
"Tobacco lobbyist Nick Naylor is trying to SAVE YOUR ASH!"
R
2005
1 hr 32 min
71
Thank You for Smoking is a comedic film starring Aaron Eckhardt and Maria Bello. Aaron Eckhardt plays Nick, a tobacco industry lobbyist. Nick is desperately trying to increase the popularity of cigarette smoking. His boss sends him to Los Angeles where Nick plans to meet with movie industry executives and try to persuade them to put cigarette ads in the movies. Nick also brings his young son on his trip to Los Angeles. As a divorced father, Nick wants to be able to try and bond with him. Nick also needs to bribe Lutch while he is in Los Angeles. Lutch used to play the Marlboro Man in commercials and he is now sick with lung cancer. Lutch campaigns against cigarette smoking and Nick's goal is to get him to stop. Nothing seems to go Nick's way. He is kidnapped and drugged with heavy doses of nicotine. He is also falling in love with a young reporter, Heather. Heather ends up seducing Nick and gets him to tell her all his secrets. Nick becomes depressed after Heather betrays him. He is down in the dumps until his son reminds him of all the good he used to do. Nick decides to get his good reputation back. The first thing he does is clear the names of all the people he has smeared over the years. Heather's is exposed as a backstabber and she is demoted to a working as a local television station weather girl. Nick then opens his own lobbying organization and begins to get clients of his own. He decides to never go back working for the tobacco company. His son goes on to win a school debate competition, using the skills that his father taught him.