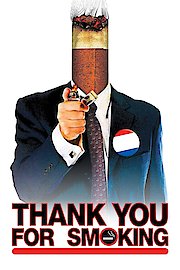 Watch Thank You for Smoking
"Tobacco lobbyist Nick Naylor is trying to SAVE YOUR ASH!"
R
2005
1 hr 32 min
71
Thank You for Smoking is a satirical comedy-drama film that was released in 2005. It tells the story of Nick Naylor (Aaron Eckhart), a smooth-talking tobacco lobbyist who is hired by the tobacco industry to protect their interests and dispel myths surrounding smoking. The film explores the world of public relations, spin-doctoring, and the art of persuasion. Nick's job is to make smoking look cool and sexier than it really is, despite the negative health effects associated with smoking. Nick is a master of spin and has a talent for manipulating words and ideas to get what he wants. His job is to keep the tobacco industry alive and flourishing despite the changing attitudes of society towards smoking.
The film follows Nick as he navigates his way through his job, dealing with a variety of people, including his bosses, fellow lobbyists, journalists, and politicians. Nick is not above using questionable tactics to get his way, and the film shows the audience how the tobacco industry uses their power and influence to control the public's perception of smoking.
Throughout the film, Nick meets a variety of interesting characters, such as his young son Joey (Cameron Bright), who is wise beyond his years and often challenges Nick's beliefs. Nick also meets a quirky reporter, Heather Holloway (Katie Holmes), who is doing an exposé on the tobacco industry, and Bobby Jay Bliss (David Koechner), a firearms lobbyist who shares Nick's expertise in spin-doctoring.
The film delves into the ethical dilemmas inherent in Nick's job, as he struggles with the morality of promoting a product that is harmful to people's health. At the same time, Nick is a likable character, and the audience cannot help but be drawn into his world and appreciate his quick wit and charm.
Thank You for Smoking is a well-written, well-directed film that tackles serious issues in a humorous and satirical way. It is a movie that makes you think, laugh, and question your own beliefs about smoking and the power of persuasion in modern society. The film's cast is excellent, with Aaron Eckhart giving a standout performance as Nick Naylor. Cameron Bright, as Nick's young son Joey, is also impressive, with a performance that is both touching and insightful.
Overall, Thank You for Smoking is a smart, funny, and thought-provoking film that is a must-watch for anyone interested in the world of public relations or the power of persuasion. It is a movie that will leave you thinking and talking long after the credits roll.
Thank You for Smoking is a 2005 comedy with a runtime of 1 hour and 32 minutes. It has received mostly positive reviews from critics and viewers, who have given it an IMDb score of 7.5 and a MetaScore of 71.