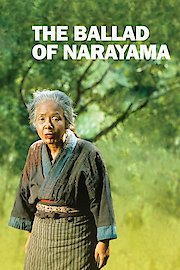 Watch The Ballad of Narayama
"Only Time Could Change the Cruelty of Tradition… Only Their Love Could Survive It…"
NR
1983
2 hr 10 min
Life in a remote mountain village can't be a walk in the park. Not when food is scarce and people are plenty. It is for these very reasons why Orin, a sixty-nine year old woman, must travel up the mountaintop to die in the middle of winter. Refusing to leave the village would only disgrace her family. However, before she goes off to meet her maker, she is bound and determined to find a suitable wife for her dear son Tatsuhei. Winner of the Palme d'Or award at the Cannes Film Festival, audiences are sure to delight in the highs and lows of this dramatic, Japanese tale.