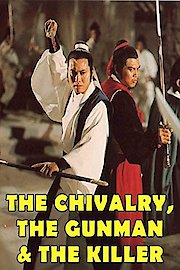 Watch The Chivalry, The Gunman and Killer
1977
1 hr 31 min
As tasked, I can provide a description of the movie The Chivalry, The Gunman and Killer from 1977. This is a classic martial arts and action film, directed by John Woo and starring some of China's most famous actors of the time. The story centers around a former soldier named Feng (played by Hua Yueh), who is seeking vengeance against a rival gang that killed his family. To do so, he enlists the help of a renegade gunman named Ti (played by Ying Bai), who is skilled in marksmanship and has a personal vendetta against the same gang. Together, they set out to take down the gang's leader, a ruthless killer known only as the Old Man (played by Kuang Yu Wang).
Along the way, they encounter a mysterious woman named Ching (played by Feng Hsu), who may or may not be working for the Old Man, and who possesses her own unique set of fighting skills. Together, the four of them engage in a series of epic battles, blending martial arts and gunplay in a way that was innovative for its time.
The film is notable for its excellent choreography, which combines traditional Chinese martial arts with Hollywood-style action scenes. This was still a relatively new genre at the time, and the filmmakers were clearly pushing the boundaries of what was possible on-screen. The fights are fast-paced and intense, with the characters using everything from swords to guns to battle their foes.
At its core, though, The Chivalry, The Gunman and Killer is a classic revenge tale. Feng's motivation is understandable and relatable, and we feel his anger and pain as he seeks justice for his family. Ti is similarly driven, and his bond with Feng adds a layer of depth to the proceedings. Ching is a more enigmatic figure, but her presence adds a sense of mystery and intrigue to the story.
Overall, The Chivalry, The Gunman and Killer is a thrilling and action-packed adventure that still holds up more than 40 years after its release. It's a must-see for fans of martial arts movies, John Woo, or just great action filmmaking in general.
The Chivalry, The Gunman and Killer is a 1977 action movie with a runtime of 1 hour and 31 minutes. It has received moderate reviews from critics and viewers, who have given it an IMDb score of 5.8.