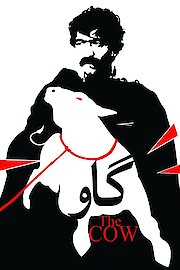 Watch The Cow
NR
1971
1 hr 40 min
The Cow is an Iranian film from 1969 that is regarded as a masterpiece of Iranian cinema. It tells the story of a poor villager named Hassan who lives in an isolated village in the middle of nowhere. He owns a cow who is the most important thing in his life, and he takes great pride in taking care of her. He treats her with love and care, and everyone in the village knows about his deep attachment to the cow.
One day, Hassan's cow accidentally dies due to an illness, and he is completely devastated. He is unable to bear the loss of his beloved cow, and he becomes mentally unstable. Unable to come to terms with the reality of his loss, he starts to believe that the cow is still alive and that everyone is lying to him. He begins to wear the cow's skin and imitates her movements and sounds, which causes concern and confusion among the villagers.
The film explores the themes of grief, loss, and mental illness in a rural Iranian setting. It presents a view of Iranian society that is struggling to come to terms with the impact of the modern world on its traditional culture. The cinematography is stunning, and the film's use of natural light and landscapes captures the essence of rural life in Iran.
Ezzatolah Entezami gives a strong and moving performance as Hassan, the protagonist of the film. His character is both sympathetic and disturbing as he descends into a spiral of grief and delusion. Mahin Shahabi also gives a powerful performance as Hassan's wife, who is torn between her love for her husband and her concern for his mental state. Ali Nassirian, who plays the village elder, is also excellent in his role, representing the traditional values that are at odds with the modern world that is encroaching on the village.
The Cow was directed by Dariush Mehrjui, who was one of the most important directors of the Iranian New Wave. The film is considered to be a landmark in Iranian cinema, as it was the first film of this era to gain international recognition. It won several awards at international film festivals and was also nominated for the Palme d'Or at the Cannes Film Festival.
The Cow offers a unique and insightful view of Iranian society that is rarely seen in Western cinema. It is a poignant and moving film that explores the human condition in a way that is both universal and specific to its cultural context. The film's technical mastery, powerful performances, and compelling story make it a must-see for anyone interested in world cinema. It is a true masterpiece of Iranian cinema and a testament to the power of storytelling.