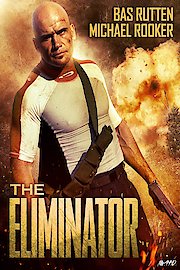 Watch The Eliminator
"The Hunter Becomes the Hunted."
R
2004
1 hr 30 min
The Eliminator is a 2004 action film starring Michael Rooker as a former FBI agent known as the "Eliminator" who is brought out of retirement to track down a dangerous criminal named Lazarus (played by Bas Rutten). The film is set in Los Angeles and follows the Eliminator as he races against the clock to stop Lazarus from carrying out a deadly plot.
The film opens with a bang as we see Lazarus breaking out of prison in a daring helicopter escape. From there, we are introduced to the Eliminator, who is living a quiet life in retirement. However, when his former boss (played by Danny Trejo) comes to him with a job offer to take down Lazarus, the Eliminator reluctantly agrees to help.
The Eliminator is joined by a team of agents, including his former partner Rachel (played by Danielle Burgio) and a tech expert named Sona (played by Kelly Overton). Together, they work to track down Lazarus and stop him before it's too late.
Throughout the film, we see intense action sequences as the Eliminator and his team pursue Lazarus across Los Angeles. From car chases to hand-to-hand combat, the film delivers plenty of thrills and excitement. Michael Rooker is particularly impressive as the Eliminator, bringing a tough, no-nonsense attitude to the role.
In addition to the action, the film also explores the personal lives of the characters. We see the Eliminator struggle with his demons and confront his past mistakes, while Rachel deals with the aftermath of a failed relationship. These moments provide some depth to the characters, making them more than just one-dimensional action heroes.
The film's villain, Lazarus, is also an interesting character. Played with intensity by Bas Rutten, he is a formidable opponent for the Eliminator and his team. We learn that Lazarus is seeking revenge for the death of his brother, and his plot involves a deadly attack on the city.
Overall, The Eliminator is a solid action film that delivers plenty of thrills and excitement. While it doesn't break any new ground, it's an entertaining ride for fans of the genre. Michael Rooker and Bas Rutten are both highlights of the film, delivering strong performances as the hero and villain respectively. If you're looking for an action-packed escape, The Eliminator delivers.
The Eliminator is a 2004 action movie with a runtime of 1 hour and 30 minutes. It has received mostly poor reviews from critics and viewers, who have given it an IMDb score of 3.4.