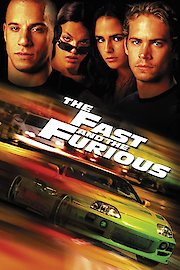 Watch The Fast and the Furious
"Live life 1/4 mile at a time."
PG-13
2001
1 hr 42 min
58

A group of Honda Civics are being used in the hijacking of a Semi-truck and taking their contents. One car first goes in front of the semi-truck and uses a hook to pull off the pane of glass. One of the people then uses a grappling hook to enter the cab, subdue the driver, and drive off with the contents. Later on, the chief of police tells Brian, who is really a cop with the false name of Brian Earl Spilner that the truckers are about to arm themselves and take things into their own hands, but hold off to let the police try and handle it.He is sent in trying to find out who is responsible for these truck hijackings.
He tries to get in with a group of people led by Dominic Toretto (Vin Diesel). Toretto runs a grocery shop and a garage where he does tune ups. Vince (Matt Schulze) gets into a fight with Brian which Dominic breaks up and tells Brian not to come back. Brian shows up again at a street race and bets his car that he will win. Though close, Dominic just beats him as Brian's pistons explode. The police then come to break up the race. Everyone flees, but Brian stays around and picks Dominic up, gaining his good graces. They are accosted by a rival Vietnamese car shop lead by Johnny Tran, who later blows up Brian's car. Afterwards, Toretto says that Brian still owes him a ten-second car.
Soon, Brian gets inside the Toretto clan. He dates Domenic's sister, Mia, and begins tuning up while finding out more information. The skid marks of the Honda Civics show a brand of tires, which leads him to inspect Hector's (Puton Gugliemi) garage, a local racer and friend of Toretto. When Brian goes into his shop late at night to check out the cars, the tires don't correspond to the tires on the Civics. Vince finds Brian poking around and points a Shotgun to his face and accuses him of being a cop. Brian denies it and says that he can't lose another race and was checking everyone's cars out. Dominic, Vince, and Brian then break into Tran's shop, where they find a stack of DVD players and several cars without engines. Brian reports his findings to his superiors, but they soon notice he's getting close with Toretto, growing wary of Brian. After another truck hijacking occurs, the police move in and arrest all the members of Tran's gang, but find that the players were legally purchased and that they are not the ones doing the hijackings. Brian's superior tells him that it has to be Toretto doing it, giving him a sudden deadline. Brian casually asks Toretto that whatever he is doing, he wants in on it as well. Toretto agrees as long as Brian wins the upcoming Race Wars.
During Race Wars, Toretto's friend Jesse races his Volkswagen Jetta against Johnny Tran's Honda S2000 for pink slips and loses. In a state of panic, he drives away from the race. During the night, Toretto and the rest of the clan drive out. Brian confesses to Mia that he's a cop and tells her that the truckers are now armed. He convinces her to come with him to save her brother and his friends.
They trace his cell phone and track him down. Toretto pulls out the Honda Civics to make one last truck jacking. While pulling the job, Toretto notices the truck driver is armed with a shotgun. Vince's arm is trapped in the wire as Letty and Toretto try to rescue him. Letty's Civic soon flips over and Dominic soon skids off the road. Brian catches up and gets Vince off. Brian phones in for air patrol, revealing to Toretto his serial number and that he is a cop. Vince is taken to a hospital, and Toretto and Mia drive off angrily.
Brian confronts Toretto at his house. When Jesse comes back, Johnny Tran and his cousin show up to pull off a drive-by, killing Jesse in the process. Brian and Dominic drive out to go after them. Dominic forces one cycle to flip over using his 1970 Dodge Charger. Brian successfully shoots Tran, killing him. They then find themselves at an intersection and engage in a street race. As a train approaches, both cars manage to speed up and pass the tracks as the train barrels down on them. Dominic is then sideswiped by an unexpected truck and his car flips over. Brian then goes to check on Dominic. Suddenly, they notice that the cops are coming. Knowing Dominic will be arrested when they arrive, Brian gives his keys to Dominic, saying, "I owe you a ten-second car." Brian then allows Dominic to escape.
The Fast and the Furious is a 2001 action movie with a runtime of 1 hour and 42 minutes. It has received moderate reviews from critics and viewers, who have given it an IMDb score of 6.8 and a MetaScore of 58.