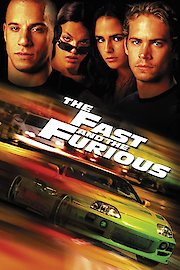 Watch The Fast and the Furious
"Live life 1/4 mile at a time."
PG-13
2001
1 hr 42 min
58
The Fast and the Furious is definitely an action film. This 2001 movie features Vin Diesel, and Paul Walker, and is set in Los Angeles. When a truck has been hijacked, an undercover cop is sent out to join a group of illegal street racers, to get to the bottom of this scandal. Brian, better known as Paul Walker, is set in a job working at a used parts place as a cover, and also to get connections to the race group. He also gets the opportunity to participate in building the car he will drive to become a part of the street racer group. At night in Los Angeles, the streets become deserted, and all of these high dollar racers come out. The usual wager is money, but on one occasion, the newcomer, races for pink slips. These hard core drivers will stop at nothing short of winning. They have nitro and know how to use it. All except for perhaps the new guy, he gives his car a little too much nitro and blows the engine. He came very close to winning, but because of his lack of knowledge, he pushed a little too hard. Now he has lost the race, and his car, and his dignity. The crowd disperses as they hear sirens and see police cars nearing. Most of the drivers speed away in their race cars, Brian runs into a nearby alley, finds another ride and gets away. In the process, he sees one of the top drivers, Dom, Vin Diesel, in trouble Brian helps him escape being arrested. After that, Dom respects Brian for saving his butt. Another hijacking is taking place, when something goes terribly wrong. The truck driver refuses to be taken advantage of by these thugs, and he pulls out a shotgun and shoots two of them, causing them very bad injuries. Brian blows his cover to save their lives, and radios for a medical helicopter. Brian also finds out there is a lot of other stuff going on. These guys have a garage where they are storing stolen engines and parts, and even cars, so the S.W.A.T team is called out, the men are arrested, but everything appears to be legal. Boy! These guys are good! So the men are released on bail, having to pay only a few minor parking tickets. In the end, Brian finds out his close buddy, Dom is the leader of the high jacking ring. His supposed friend finds out he is onto him, so he flees. Brian catches him, only to let him go, in his car. What a movie!