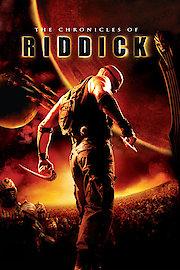 Watch The Chronicles of Riddick
"All the power in the universe can't change destiny"
The Chronicles of Riddick picks up after Pitch Black, giving viewers a bigger look at the universe, and expanding the mythology of the characters involved. The film opens up on an ice planet 5 years after Pitch Black. A bounty hunter named Toombs is trying to bring Riddick in for a payday, but Riddick takes the ship and goes after the man that posted the bounty. That man is Imam, from Pitch Black, who needs Riddick's help. There is a force in the world, a race of undead beings called Necromongers who will convert or kill everyone in their path. Riddick, claiming it's not his fight, leaves just before the Necromongers invade. Imam is killed, and Riddick hunts down the soldier that did the deed. Then Riddick escapes the Necromongers, only to be captured by Toombs, who takes Riddick to a terminally burning prison planet called Crematoria. Inside Crematoria Riddick finds Jack, the girl that everyone thought was a boy, grown up into a vicious young killer calling herself Kira. Riddick outs the prison, but it becomes a run to see who gets to the hangar first, the guards in the underground tunnel or Riddick and his handful of followers going overland. They arrive at nearly the same time to find a Necromonger ship. A battle ensues, where Riddick has a spiritual revelation that he's a Furyan, a race thought wiped out long ago. It was foretold that a Furyan would be the death of the Lord Marshall, commander of the Necromongers. Riddick is reported killed by Lord Vaco, a Necromonger commander, but his mate informs him that Riddick is alive, well and onboard the ship. Riddick makes his move, finding that Kira has been taken. He attacks with a will, the only man to fight the Lord Marshall to a standstill. Kira stabs the Marshall in the back and is killed, but Riddick delivers the death blow. As such, he inherits the Necromonger command.