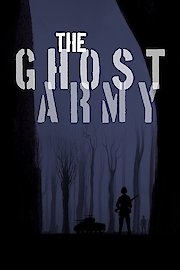 Watch The Ghost Army
"Illusion was their ultimate weapon."
TV-PG
2013
1 hr 8 min
The Ghost Army is a documentary film that first aired in 2013. The film's subject matter is an American army unit that operated during World War II. The unit was composed of artists and performers, and was given the task of deceiving the Germans. This includes doing things like creating movie sets that represented fake army units, fake roads and bridges, and were able to convince the Germans of the existence of thousands of soldiers who were not there. The unit was instrumental in deceiving the Germans of the location of the D-day landings, and many of the unit's members went on to become famous fashion and art icons.