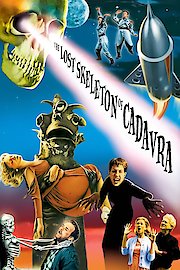 Watch The Lost Skeleton of Cadavra
"No One Can Stand Its Mental Power!"
PG
2004
1 hr 29 min
45
The Lost Skeleton of Cadavra is a surrealistic and amusing sci-fi/horror parody movie directed by Larry Blamire in 2001. The movie is shot in black and white, which adds to its retro feel, and features a cast of quirky characters, including aliens, zombie-like creatures, mad scientists, and a talking skeleton. The plot revolves around Dr. Paul Armstrong (Larry Blamire) and his wife Betty (Fay Masterson), who are on a scientific expedition to find a rare mineral called 'Atmosphereum'—a substance that can power their latest invention, the 'transmutatron.' During their journey, they come across a cabin in the woods, where they meet a group of eccentric characters, including the evil Dr. Roger Fleming (Brian Howe) and his wife, animal-loving Animala (Jennifer Blaire). As the story progresses, Dr. Armstrong and his wife discover that the surrounding woods are home to a lost civilization, and that the rare mineral they seek has been discovered by a talking skeleton, who wants to use it to regain his human form. Meanwhile, Dr. Fleming has his own sinister plans for the Atmosphereum, and the two groups begin a race to claim the valuable substance. The Lost Skeleton of Cadavra is filled with hilarious moments, including a scene where the aliens, who resemble giant lobsters, engage in a dance-off, and another where the zombie-like creatures stumble around aimlessly, muttering 'Brains!'. The dialogue is intentionally cheesy, with characters often speaking in stilted, melodramatic tones reminiscent of B-movie classics. The movie also makes clever use of special effects, such as stop-motion animation, to create a surrealistic atmosphere. This, combined with the black and white cinematography, contributes to the film's overall aesthetic, which pays homage to the sci-fi/horror genre of the 1950s. Despite its low-budget and intentionally campy feel, The Lost Skeleton of Cadavra garnered critical acclaim and became a cult favorite among fans of the sci-fi/horror genre. Its success led to a sequel, The Lost Skeleton Returns Again, which continued the absurd adventures of Dr. Armstrong and his companions in their quest for scientific knowledge. Overall, The Lost Skeleton of Cadavra is a delightful parody of the sci-fi/horror genre, filled with memorable characters, witty dialogue, and laugh-out-loud moments. It is a must-see for fans of B-movies and anyone looking for a fun, lighthearted romp through the world of mad science and talking skeletons.