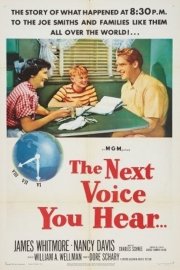 Watch The Next Voice You Hear
"The story of what happened at 8:30 p.m. to the Joe Smiths and families like them all over the world!"
1950
1 hr 23 min
That voice on the radio, claiming to be God? Must be a prank by a kid on his ham radio. Or maybe it's something by Orson Welles. But as occurrences mount worldwide, people become convinced: the voice claiming to be God... is God.