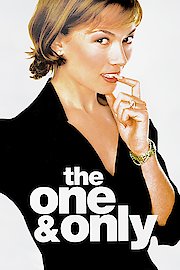 Watch The One and Only
"She'll go from riches to rags to find the one and only."
2002
1 hr 31 min
The One and Only is a 2002 romantic comedy film directed by Simon Cellan Jones. The movie's plot revolves around Stevie, a small-town beauty queen who dreams of marrying a prince charming and living happily ever after. However, her dreams are shattered when her fiancé breaks up with her, leaving her alone and heartbroken. To escape her mundane life and start a new one, Stevie moves to the big city of London to pursue her career as a singer. There, she meets and falls in love with the handsome and charismatic Sonny, a struggling rock star who has seen better days. Though they are from different worlds, and his lifestyle is completely different from what she is used to, they are drawn to each other and begin a passionate romance. As Stevie and Sonny's relationship blossoms, they are faced with several challenges that could threaten their love. Sonny's manager, Dave, is not happy with the new romance and is determined to keep Stevie away from the limelight. Stevie's ex-fiancé also makes a sudden reappearance, determined to reclaim her as his own. As tensions rise and the stakes get higher, Stevie and Sonny must decide whether their love is worth sacrificing everything for. The One and Only features a star-studded cast, including Justine Waddell as Stevie, Richard Roxburgh as Sonny, and Jonathan Cake as Stevie's ex-fiancé. The film's soundtrack features popular hits such as "It's Raining Men," "Total Eclipse of the Heart," and "Tainted Love." The romantic comedy film showcases the glamour and excitement of London's music scene, as well as the challenges of pursuing one's dreams and finding true love. The One and Only is a feel-good movie that is sure to leave viewers with a smile on their faces. It explores themes of love, self-discovery, and determination, and features strong performances from its talented cast. The film's witty script, catchy soundtrack, and charming storyline make it an enjoyable watch for anyone looking for a light-hearted romantic comedy.