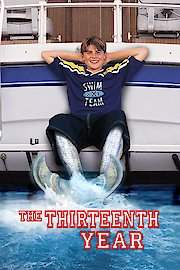 Watch The Thirteenth Year
"Cody's Not Just Growing Up... He's Growing Fins!"
G
1999
1 hr 28 min
The Thirteenth Year is a heartwarming and fantastical Disney Original Movie from 1999 that tells the story of a young boy named Cody Griffin (played by Chez Starbuck) who is about to turn thirteen. As he approaches this milestone birthday, he begins to experience some strange and inexplicable changes that he can't quite understand. At first, Cody brushes off the odd occurrences as mere coincidence, such as his newfound love of swimming and obsession with the water, or the appearance of scales on his skin. But as his thirteenth birthday draws nearer, he slowly begins to realize that something truly abnormal is happening to him - he's actually becoming a mermaid!
Desperately trying to keep his secret under wraps, Cody confides in his best friend Jess (played by Courtnee Draper), who does her best to help him navigate his new aquatic life while still keeping it hidden from their classmates and families. Meanwhile, Cody's mermaid heritage is revealed when he meets up with a real mermaid named Sam (played by Justin Jon Ross), who teaches him about his transformation and the underwater world he can now explore.
As Cody comes to terms with his unique identity as a mermaid, he faces an interesting dilemma - should he keep his newfound identity a secret from those around him, or embrace who he truly is and share his mermaid self with the world? With help from his friends and some self-discovery along the way, Cody navigates the challenges of being a teenager plus the added twist of becoming a magical creature.
The Thirteenth Year is an enjoyable, family-friendly film that deals with classic coming-of-age themes such as self-discovery, friendship, and acceptance. It's a fun and imaginative take on the traditional mermaid story, but with a modern twist that will delight all ages. Chez Starbuck's portrayal of Cody is relatable and relatable, while Courtnee Draper delivers a spunky, supportive performance as Jess. Justin Jon Ross as Cody's mermaid mentor, Sam, brings a touch of whimsy to the film, and his jovial personality will put a smile on your face.
Not only is the story engaging, but the special effects used to portray the underwater scenes and Cody's transformation are impressive and well-done. The film's pacing is also well-executed, as it balances the levity of Cody's mermaid adventures with more serious moments that drive home the importance of accepting oneself and finding one's place in the world.
Overall, The Thirteenth Year is a charming and entertaining Disney Original Movie that will appeal to viewers of all ages. Its message of self-acceptance is important and timely, and the film's combination of fantasy and reality is sure to captivate audiences. If you're looking for a feel-good film that will inspire you to embrace who you truly are, give The Thirteenth Year a chance – who knows, it may just remind you of something magical lurking beneath your own exterior!
The Thirteenth Year is a 1999 tv movie with a runtime of 1 hour and 28 minutes. It has received moderate reviews from critics and viewers, who have given it an IMDb score of 5.9.