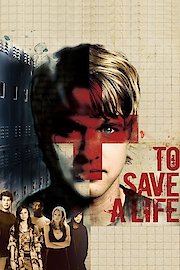 Watch To Save a Life
"Some people are just dying to be heard."
PG-13
2010
19
To Save A Life is a faith-based inspiring drama starring Randy Wayne as the lead role of Jake Taylor. Jake is a high school student who is portrayed as having the perfect life. He appears to have the perfect home life, he appears to be in an ideal high school romance with his girlfriend, and he is the star of his high school's basketball team. All along he dreams of graduating from high school and leaving California to attend the University of Louisville. Of course, being a star athlete and a popular student in high school also goes hand in hand with a lot of partying and a lot of questionable decisions outside of school. As Jake moves down this predictable road, everything gets disrupted by the suicide of a friend he had when he was younger, but whom he grew apart from as he began to grow into being one of the most popular kids in school. The death has a profound effect on Jake as he begins to explore the deeper reasons behind his friends suicide, leading him to question everything he knows about the world he lives in and everything about the person he is. In his search for answer Jake finds himself under the guidance of a youth minister and joining a Christian youth group, creating a schism between Jake's old life and friends and his new life and friends. Contrary to what might be expected, Jake doesn't immediately dive head first into a new Christian lifestyle, he continues to question the people that are around him and the things they tell him. As a whole, To Save A Life is far less preachy than one might expect for a movie in which the main character finds religion. But more important than any religious connotations in this film is its realistic depiction of high school life, the existence of cliques, the pressure to be popular and fit in, and the treatment of those who don't fit in. The content and the theme of the movie is so important that it outweighs its shortcomings, such as the acting and cinematography. Nonetheless, it is a great movie for teenagers to see, as it is a mirror they can hold up to themselves to get insight into what they're lives look like from the outside. In that sense, To Save A Life is good to watch for more than just entertainment purposes; it's a movie that comes with lesson attached.