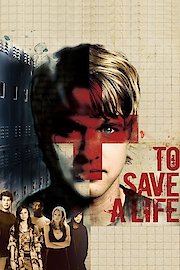 Watch To Save a Life
"Some people are just dying to be heard."
PG-13
2010
19
To Save a Life is a powerful and emotional drama from 2009, exploring the complexities and struggles faced by teenagers in high school. Directed by Brian Baugh, the film stars Randy Wayne as Jake Taylor, a popular and high-achieving student who finds himself questioning the superficiality of his social life when a tragic event shakes his world. The story begins with Jake as a carefree and confident senior at Pacific High School, enjoying the privileges and perks that come with being part of the cool crowd. He has a gorgeous girlfriend, Amy (Deja Kreutzberg), and a best friend, Roger (Joshua Weigel), who is always by his side. However, his perfect world is turned upside down when he discovers that his childhood friend, Roger, has committed suicide. Shaken by this news, Jake begins to question the meaning of his own life and beliefs. Feeling guilt-ridden and lost, Jake seeks solace in an unlikely place: church. Here he meets the youth pastor, Chris (played by Christian singer Steven Curtis Chapman), who encourages him to start attending services and to reach out to others who may be struggling. As Jake begins to open up and connect with those around him, he is confronted with the harsh realities of life as a teenager. He witnesses his friend Jonny (Sean Michael Afable) being teased and bullied for being different, and he sees another friend, Brad (Scott Christopher), spiraling out of control with drugs and alcohol. As Jake becomes more involved in the church community and tries to make a difference in the lives of those around him, he faces a difficult decision when he discovers that his girlfriend Amy is pregnant. He must choose between his loyalty to her and his growing attraction to a fellow student, Andrea (Kim Hidalgo), who is dealing with her own emotional struggles. Throughout the film, To Save a Life tackles issues such as bullying, teenage pregnancy, suicide, substance abuse, and faith. The characters are complex and relatable, each dealing with their own demons and searching for their own path. The movie sends the message that even in the hardest of times, hope and love can conquer all. The acting in To Save a Life is impressive, with Randy Wayne delivering a heartfelt performance as Jake. Deja Kreutzberg also stands out as Amy, portraying a character dealing with the consequences of her actions with depth and sensitivity. The supporting cast, including Joshua Weigel, Sean Michael Afable, and Kim Hidalgo, all bring nuance and authenticity to their roles. Director Brian Baugh shows a deft hand with the subject matter, managing to address heavy themes without feeling preachy or heavy-handed. The film's pacing is brisk, with the story moving quickly from one scene to the next. The cinematography is visually stunning, capturing the beauty and heartbreak of everyday life in high school. To Save a Life is a poignant and uplifting film that speaks to the struggles and hopes of teenagers facing difficult choices. It highlights the importance of reaching out to those in need and the redemptive power of love and compassion. It is a must-watch for anyone who has felt lost or alone and a reminder that even in the darkest of times, there is always a glimmer of hope.