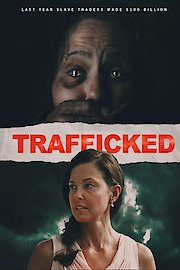 Watch Trafficked
"Last year slave traders made $100 billion"
R
2017
1 hr 44 min
38
Trafficked is a 2017 movie that highlights the horrors of human trafficking. Inspired by true events, the film takes the audience on an emotional journey as it follows the story of three girls from different parts of the world who fall prey to the cruel world of human trafficking. The main character of the film is a 16-year-old girl named Cassandra, played by newcomer actress, Kelly Washington. She is a high school student living in a small town in America. In the hopes of pursuing her dream of becoming a doctor, she sends her application to a prestigious medical school in Boston. However, plans change when she meets a man named Alex, played by Patrick Duffy, who convinces her to come to New York City for an audition for a modeling job.
In New York, Cassandra is drugged and taken to a brothel where she is forced into prostitution. The brothel is run by a ruthless madam named Syra, played by Ashley Judd. Syra provides her clients with young girls, and anyone who refuses to comply with her rules is subjected to brutal punishment. Cassandra is given a new name, Lillian, and is sold to a wealthy businessman named Michael, played by Sean Patrick Flanery, who is curious to explore the depths of his sadistic desires.
The second character in the film is another young girl named Tatiana, played by Amiah Miller. Tatiana is an orphan in Ukraine who is sold to a sex-trafficking ring. She is taken to a brothel in Moscow where she is trained to become a sex worker. Tatiana is only 13 years old and is subjected to horrific torture when she does not comply with the demands of her captors.
The third character in the movie is a Nigerian girl named Malia, played by Jessica Obilom. Malia is kidnapped and taken to the United States where she is forced to work as a maid in Syra's brothel. She is subjected to physical and verbal abuse by Syra who takes pleasure in seeing Malia in pain.
The three girls, Cassandra, Tatiana, and Malia, meet in the brothel where they share their stories and their dreams of escaping the brothel. They plan their escape, but it is not easy as they are under constant surveillance. They face various challenges as they attempt to break free from the brothel's clutches.
The movie highlights the issue of human trafficking and the plight of young girls who are caught in this vicious cycle. It provides a realistic portrayal of the horrors that these girls face as they are sold into a life of slavery. The film captures the emotional turmoil faced by the victims of human trafficking, as they are stripped of their humanity and used as commodities for the pleasure of others. It also exposes the role of the traffickers and the corrupt officials who profit from the misery of others.
Trafficked provides a powerful commentary on the need to combat human trafficking and the importance of raising awareness about this issue. The movie portrays the resilience and courage of the three girls as they fight for their freedom, and the power of hope in overcoming even the most dire circumstances.
In conclusion, Trafficked is an emotionally charged film that sheds light on one of the most pressing issues of our time. It is a must-watch for anyone who cares about the plight of young girls who are forced into a life of slavery.
Trafficked is a 2017 drama with a runtime of 1 hour and 44 minutes. It has received mostly poor reviews from critics and viewers, who have given it an IMDb score of 5.7 and a MetaScore of 38.