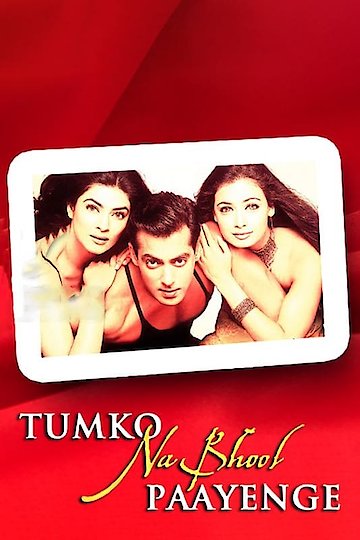 Watch Tumko Na Bhool Paayenge
"Expect the unexpected."
2002
2 hr 40 min
Tumko Na Bhool Paayenge is a 2002 Indian action thriller film directed by Pankaj Parashar and produced by Gordhan Tanwani. It stars Salman Khan, Sushmita Sen, and Dia Mirza in lead roles, and features Pankaj Dheer, Arbaaz Khan, and Sharat Saxena in supporting roles. The film revolves around the life of Veer Singh Thakur, played by Salman Khan, who is a wealthy businessman living in Canada. He returns to his native village in Rajasthan to marry his fiancée, Muskaan, played by Dia Mirza. However, his plans take a turn when he is informed that he had a traumatic accident in the past.
The movie begins with Veer Singh Thakur being chased by armed men, but he manages to escape with his life. He eventually reaches Canada, where he meets Muskaan and falls in love with her. They get engaged and plan to get married soon. Veer Singh's life takes a sudden turn when he receives a call from India informing him that he had an accident years ago and is suffering from amnesia. He is also informed that he had a wife and a child in India, which he has no memory of.
Veer Singh is shocked to learn about this and decides to travel to India to uncover the truth about his past. This journey leads him to the heart of a conspiracy, with different people trying to kill him. He meets Muskaan's brother, Ali, played by Arbaaz Khan, who helps him in his search for the truth. They learn that Veer Singh's first wife was killed in the accident, and his child is missing.
Veer Singh's search for his child and the truth about his past leads him to meet Isha, played by Sushmita Sen, who is a police officer. Isha helps Veer Singh in his search and eventually falls in love with him. Together, they uncover the truth about Veer Singh's past and also find his missing child.
The film features some intense action scenes, especially towards the climax when Veer Singh confronts the villain. Salman Khan's performance as Veer Singh Thakur is commendable, and he brings a lot of energy to the screen. He beautifully portrays the emotional turmoil of a man who has lost his memory and is trying to uncover the truth about his past.
Dia Mirza looks beautiful in the movie and delivers an excellent performance as Muskaan. Arbaaz Khan is impressive as Ali, and his chemistry with Salman Khan is noteworthy. Sushmita Sen looks stunning in the movie and showcases great acting skills.
The music of the movie is composed by Sajid-Wajid and is quite good. The songs "Tumko Na Bhool Paayenge" and "Yeh Bekhudi Deewangi" are particularly catchy and melodious.
Overall, Tumko Na Bhool Paayenge is a well-made action-thriller that manages to keep you engaged throughout its runtime. The movie is visually appealing and showcases some impressive action sequences. The performances by the lead actors are noteworthy, and the music of the film is quite delightful. If you are a fan of action-thriller movies, then Tumko Na Bhool Paayenge is definitely a movie you must watch.