Watch Turbo
"SLO NO MO"
Turbo is a 3D computer-animated comedy produced by DreamWorks Animation. This film tells the story of a regular garden snail, Theo, as known as Turbo, who dreams of being fast. This peculiarity makes him an outsider in his local community, until a freak accident gives him a chance to realize his dreams. Turbo's newfound skill takes him all the way from California to the Indianapolis 500, despite having to overcome multiple obstacles along the way.
Turbo is voiced by the actor Ryan Reynolds. Paul Giamatti, Michael Pena, Samuel L. Jackson, Luis Guzman, Bill Hader, Snoop Dogg, Maya Rudolph, and Ken Jeong voice the roles of some of the other major characters. This uplifting underdog story has received generally positive reviews since its release on July 17, 2013.
|
2013
|
1 hr 35 min
|

/

10
Cast

Studio

Director

David Soren

Language

English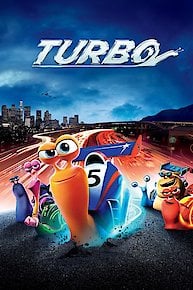 SUBSCRIPTION
RENT / BUY
CABLE

Watch Turbo Online - Watch online anytime anywhere: Stream, Download, Buy, Rent
Turbo is currently available to watch and stream, download, buy, rent on demand at DIRECTV NOW, Amazon, Vudu, Google Play, FandangoNow, iTunes, YouTube VOD online.