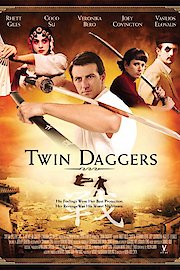 Watch Twin Daggers
"His feelings were her best protection. Her revenge was his worst nightmare."
R
2008
1 hr 30 min
Twin Daggers is a 2008 action-thriller movie directed by Bryan Goeres and stars Rhett Giles, Coco Su, Veronica Bero, and Joey Covington. The film follows the story of two twins, Jay and Seth, who are both highly skilled assassins. The twins work for a powerful criminal organization led by a notorious figure known as the Wolf. As the story begins, Jay and Seth are sent on a mission to retrieve a valuable artifact from a museum in Paris. The mission seemingly goes off without a hitch, but it is later revealed that the Wolf has an ulterior motive for sending the twins on this particular job. The artifact, it turns out, is a key that unlocks a safe containing a vast fortune in diamonds.
When Jay and Seth return with the artifact, the Wolf double-crosses them and takes the key for himself, setting off a dangerous chain of events that will lead the twins on a perilous journey of revenge and redemption.
As Jay and Seth try to track down the Wolf and reclaim what is rightfully theirs, they encounter a number of dangerous obstacles along the way - from rival assassins to corrupt police officers to powerful underworld figures. Along the way, the twins must also confront their own past mistakes and come to terms with the dark path they have chosen.
The film is a fast-paced, action-packed thriller that keeps audiences on the edge of their seats from start to finish. The fight scenes are well choreographed and executed, and the performances by the lead actors are solid.
Rhett Giles, in particular, delivers a convincing performance as both Jay and Seth, successfully conveying the distinct personalities of each character. Coco Su and Veronica Bero also deliver strong performances as two women caught up in the dangerous world of the twins, but who ultimately play pivotal roles in their journey.
Joey Covington rounds out the cast with a gritty performance as a corrupt police officer who is drawn into the twins' world.
The film also boasts impressive cinematography, with beautiful shots of Paris and other European locales serving as a stunning backdrop for the action.
Overall, Twin Daggers is an entertaining and engaging action-thriller that will satisfy fans of the genre. While it may not break any new ground or offer any major surprises, it is a well-crafted film that delivers exactly what it promises - high-octane action, suspenseful plot twists, and a satisfying conclusion.