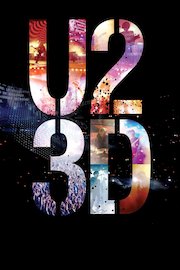 Watch U2 3D
"Hear See Experience"
G
2007
1 hr 25 min
83
U2 3D is an exhilarating concert film that captures the live energy and passion of Irish band U2 at their best. Shot during the Latin American leg of the Vertigo Tour in 2006, the film immerses viewers in a fully three-dimensional experience that brings them closer to the music and the band than ever before. Directed by Catherine Owens and Mark Pellington, U2 3D seamlessly blends concert footage with state-of-the-art technology to create an immersive experience that is both visually stunning and emotionally powerful. Shot with a specially designed 3D camera, the film captures every detail of U2's sweeping, epic performances, from Bono's soaring vocals to The Edge's iconic guitar riffs.
The film also incorporates footage of the audience, adding an extra layer of excitement and adrenaline to the experience. Seeing the massive crowds of fans singing and swaying along with U2's music is a moving reminder of the band's impact and importance, and the energy of the live performance is infectious.
Throughout the film, U2 delivers a career-spanning setlist that includes some of their biggest hits as well as lesser-known gems that are no less powerful. From the opening chords of "Vertigo" to the triumphant finale of "One," the band delivers an unforgettable performance that showcases their enduring popularity and musical prowess.
But U2 3D is more than just a concert film. With its innovative use of 3D technology, the film elevates the concert experience to a new level, offering viewers a truly immersive and unforgettable experience. From the misty depths of "Miss Sarajevo" to the soaring heights of "Where The Streets Have No Name," the 3D visuals add a stunning depth and richness to the already electrifying performances.
The film also includes behind-the-scenes footage of the band preparing for the tour, giving viewers a glimpse into the creative process behind U2's epic stage shows. From the intricate lighting designs to the soaring set pieces, the film showcases the band's dedication to delivering a truly unforgettable live experience.
But perhaps the most powerful element of U2 3D is the way it captures the profound emotional impact of U2's music. Whether it's the heart-rending beauty of "With Or Without You" or the anthemic power of "Pride (In The Name Of Love)," the film showcases the way U2's music has touched and inspired generations of fans around the world.
In the end, U2 3D is more than just a concert film - it's an unforgettable experience that captures the heart and soul of one of the world's greatest rock bands. With breathtaking visuals and electrifying performances, the film is a testament to the enduring power of U2's music, and a fitting tribute to one of the greatest live acts of all time.