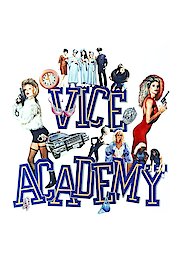 Watch Vice Academy
"Where Nice Girls become Vice Girls."
R
2007
1 hr 29 min
Vice Academy is a 1989 comedy film directed by Rick Sloane. The film is a hilarious take on a police academy, and is filled with plenty of laughs, action, and sexy women. The film stars a cast of familiar B-movie actresses, including Linnea Quigley, Ginger Lynn, and Karen Russell. The film follows a group of women who are recruited into the vice squad of the police force. They are trained at the Vice Academy, where they are put through a series of rigorous tests and challenges in order to become top-notch vice officers. The women are all very different, and each brings a unique set of skills and talents to the team.
One of the standout performances in the film is that of Linnea Quigley, who plays a tough and sexy police officer named Spider. Quigley is known for her many roles in B-movies like Night of the Demons, and she brings her signature blend of sex appeal and toughness to her role in Vice Academy. Ginger Lynn also gives a great performance as a rookie officer named Holly, who is constantly trying to prove herself to her fellow officers.
As the women go through their training, they encounter a number of challenges and obstacles. They must learn to work together as a team, and they must also navigate the politics of the police force. Along the way, they also have to deal with a number of dangerous criminals and corrupt cops, who are all eager to take down the vice squad.
The film is full of wacky humor, and there are plenty of moments that will have viewers laughing out loud. From the silly training exercises to the absurd banter between the characters, the film is a non-stop stream of comedic gold. However, the film is not just a comedy – it also has plenty of action and drama, as the women face off against dangerous criminals and corrupt cops.
Overall, Vice Academy is a fun and entertaining film that is sure to satisfy fans of B-movies and police comedies. The cast is great, the humor is top-notch, and the action is thrilling. While the film may not be for everyone, it is definitely worth a watch for anyone who enjoys a good laugh and some over-the-top action.
Vice Academy is a 2007 action movie with a runtime of 1 hour and 29 minutes. It has received mostly poor reviews from critics and viewers, who have given it an IMDb score of 4.3.