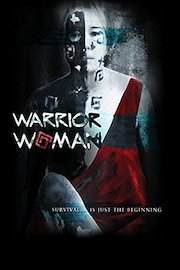 Watch Warrior Woman
NR
2011
1 hr 36 min
Warrior Woman is a powerful drama film from 2011 that takes viewers on an emotional journey through the life of a Native American woman named Agnes Yellowhorse, played brilliantly by Karen Young. Directed and co-written by Julie Reichert and Deborah Adelman, this is a gritty and realistic portrayal of life on a reservation, and the struggles that Native Americans face every day.
The film opens with Agnes, a middle-aged woman, driving her broken-down truck through the desert. We quickly learn that Agnes is on her way to see her estranged sister, Rose (Rachel M. Claudio), who has just been diagnosed with cancer. Though Agnes is reluctant to return to the reservation where she grew up, her love for Rose is stronger than her fear of confronting the painful memories that await her there.
As Agnes begins to reconnect with her sister and their shared history, we see flashbacks of her youth, when she was a rebellious teenage girl who couldn't wait to get off the reservation and make something of herself. But Agnes's dreams of moving to the city and becoming a writer were dashed when she became pregnant and was forced to marry a man she didn't love. The marriage was abusive, and Agnes turned to alcohol and drugs to numb the pain.
Despite these setbacks, Agnes remained determined to make a better life for herself and her son, Rocky (Jorge Ortin). She left her husband and turned to the reservation's traditional healing practices to help her overcome her addiction. With the help of the wise Medicine Woman (Aarti K. Attreya), Agnes was able to conquer her demons and rebuild her life.
But life on the reservation is never easy, and Agnes soon found herself struggling to make ends meet. She took a job at a casino run by a corrupt white businessman (Keith Stone), but her desire to help her people led her to join a group of activists who were fighting to reclaim their land. This decision led to a violent confrontation with the police and a tragic event that changed Agnes's life forever.
Back in the present day, as Agnes cares for her dying sister, she confronts her own mortality and the legacy she will leave behind. She also reconnects with her son, whom she has not seen in many years. Through all of these experiences, Agnes emerges as a true Warrior Woman – a survivor who has faced some of life's toughest challenges and come out on the other side stronger and wiser for it.
The performances in this film are outstanding, particularly Karen Young as Agnes. She brings a raw vulnerability to the role that makes us feel every emotion she's experiencing. The supporting cast is also excellent, especially Aarti K. Attreya as the Medicine Woman, whose quiet strength is a guiding force throughout the film.
What sets Warrior Woman apart from other films about Native Americans is its unflinching honesty. The filmmakers don't shy away from showing the harsh realities of life on a reservation, from the poverty and addiction to the systemic racism and police brutality. But they also show the beauty and resilience of the people who live there, and the power of their cultural traditions to heal and sustain them.
Overall, Warrior Woman is a must-see film for anyone who wants to understand the Native American experience in America today. It's a powerful and moving story that will stay with you long after the credits roll.