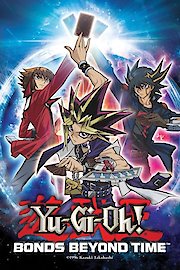 Watch Yu-Gi-Oh!: Bonds Beyond Time
TV-Y7
2010
50 min
Yu-Gi-Oh!: Bonds Beyond Time is a Japanese animated movie, released in 2010, that features three different protagonists from the Yu-Gi-Oh! series. These protagonists come from different time periods and work together to save the future. The movie was directed by Kenichi Takeshita and written by Shin Yoshida. The movie begins with Jaden Yuki, the protagonist of Yu-Gi-Oh! GX, losing a card game and being transported through time to the future of New Domino City. Here, he meets Yusei Fudo, the protagonist of Yu-Gi-Oh! 5D's, and learns that the city is under attack from a powerful villain named Paradox.
Paradox is a time traveler from the future who has come back in time to prevent the existence of Duel Monsters, and thus, erase the existence of all Duel Monsters cards, including the Egyptian God Cards. Paradox claims that in the future, Duel Monsters has caused the end of the world, and he must prevent this from happening.
Yusei and Jaden meet up with Yugi Muto, the protagonist of the original Yu-Gi-Oh! series, who helps them understand that if Paradox succeeds in erasing Duel Monsters, it will also erase the existence of other important things, such as friendships and bonds forged through the game.
Together, the three protagonists team up to defeat Paradox and protect the future. They travel through time and meet some of the most legendary Duelists, including Seto Kaiba, whose life changes forever after witnessing Paradox's attack. Along the way, they learn about the importance of bonds, both inside and outside of the game.
The movie is fast-paced and action-packed, with plenty of exciting card battles. The animation style is stylish, with a lot of attention paid to character design and background art. The voice acting in the movie is also excellent, with actors like Gregory Abbey, Matthew Labyorteaux, and Dan Green reprising their roles from the respective series. The music in the movie is also excellent and heightens the suspense and intensity during battle scenes.
One of the standout features of this movie is the way it brings together the different time periods and characters from the different Yu-Gi-Oh! series. Fans of the series will appreciate seeing characters from their favorite series interacting with each other in new and interesting ways. The movie also adds new characters, such as Paradox, who is a formidable and compelling villain.
Overall, Yu-Gi-Oh!: Bonds Beyond Time is an engaging and entertaining movie that will satisfy both longtime fans of the series and newcomers. With its exciting action scenes, memorable characters, and thought-provoking themes, the movie is a must-watch for anyone interested in the world of Yu-Gi-Oh!
Yu-Gi-Oh!: Bonds Beyond Time is a 2010 animated movie with a runtime of 50 minutes. It has received moderate reviews from critics and viewers, who have given it an IMDb score of 6.4.