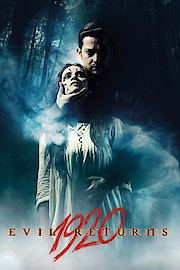 Watch 1920: Evil Returns
"Possession is Back"
NR
2012
1 hr 59 min
The horror of love, and beauty of residual evil is fully explored in this intense film. Thrillers produced in India have worldwide appeal. This ominous story is no exception. Filmed in the Hindi language, this movie packs notions of artistic angst, sordid passion, the collision of real life with the supernatural, and the daring sentiments of acclaimed Director Bhushan Patel. Amar (Shared Kelker) is an up-and-coming poet and writer venturing into his own brand of artistic experimentation. The goal is a higher understanding of human nature and emotion. On his lonely path to awareness he meets a mysterious and beautiful woman (Vicky Ahuja) with a host of troubles. Amar pampers her and checks her into a hospital for treatment. As the hours unfold, the woman becomes a host herself. She begins an unexpected dance with a demonic entity who gives Amar more to ponder and experience than he ever intended.