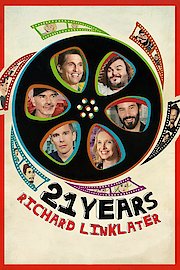 Watch 21 Years: Richard Linklater
"Eighteen films. One legend."
NR
2014
1 hr 18 min
51
21 Years: Richard Linklater is a documentary that explores the life and work of the acclaimed director, Richard Linklater, as he celebrates the 21st anniversary of the release of his breakout film, Slacker. The film features interviews with many of Linklater's collaborators and friends, including Ethan Hawke, Matthew McConaughey, and Julie Delpy, as well as archival footage of Linklater himself. The documentary begins with a look at Slacker, which is widely considered to be one of the most important independent films of the 1990s. Through interviews with the cast and crew, the film explores the making of this seminal work, and its impact on independent cinema. Linklater himself reflects on the film, discussing how it was made on a shoestring budget, and how he set out to capture a certain style of living that he found fascinating. From there, the film covers a wide range of Linklater's other works, including Dazed and Confused, Before Sunrise, and Boyhood. Each section of the film focuses on a specific movie, and features interviews with the actors and other collaborators who worked on that particular film. The documentary explores how Linklater's style has evolved over the years, and how he has developed a unique voice as a filmmaker. One of the most interesting aspects of the documentary is the way it presents Linklater's personal life as intertwined with his work. The filmmaker is shown to be deeply influenced by his own experiences, and many of his films are heavily autobiographical. For example, Dazed and Confused is based on Linklater's own high school experiences, while Boyhood is a coming-of-age story that was filmed over the course of 12 years, and is loosely based on Linklater's own life. Throughout the documentary, Linklater's collaborators speak candidly about their experiences working with him. Ethan Hawke, who has worked with Linklater on many films (including the Before trilogy), reflects on their creative partnership, and how they have grown and changed together over the years. Matthew McConaughey, who starred in Dazed and Confused, speaks about the improvisational nature of Linklater's directing style, and how he encourages actors to take risks and find their own way in their performances. The documentary also explores some of the controversies that have surrounded Linklater's work over the years. For example, some critics have accused him of being too white, too male, and too focused on a certain demographic (often referred to as "slackers"). Linklater himself acknowledges these criticisms in the film, saying that he is aware of his privilege and is working to become more inclusive in his work. Overall, 21 Years: Richard Linklater is an engaging and insightful documentary that offers a fascinating look at one of the most innovative filmmakers of our time. From Slacker to Boyhood and beyond, the film offers a comprehensive overview of Linklater's career, and illuminates the creative process behind some of his most beloved works. Whether you're a longtime fan of his films or just discovering his work for the first time, this documentary is sure to entertain and inspire.