Watch 22 Jump Street
"They're not 21 anymore"
Schmidt and Jenko are at it again. Only this time, they're not in high school anymore. If they thought reliving their days as high schoolers was tough, they are in for a treat now that they and their shenanigans have graduated to college. Gaining the freshmen 15 will be the least of their worries. While they were undercover as high school students, Schmidt and Jenko each realized that there would be more trials and tribulations than the job entailed. Now that they're in college, they'll be faced now more than ever with difficulties, both pertaining to their jobs and their kinship. When each of them infiltrates a college group for their undercover work, the relationship once again gets strained.
This time around, Jenko appropriately joins the football team, where he feels right at home. Meanwhile, Schmidt dives right back into the arts. As each of them infiltrates different groups, they start to question their own relationship as a working duo.
|
2014
|
1 hr 50 min
|

/

10
Cast

Studio

Director

Phil Lord, Christopher Miller

Language

English
SUBSCRIPTION
RENT / BUY
CABLE
22 Jump Street News
Channing Tatum Grows a Tail (for a Remake of 'Splash')
August 02, 2016 @ 5:31 am PST
|
If Disney's proposed remake of the classic comedy gets off the ground, it will come complete with a major gender role reversal. Will it set off the same internet firestorm that Ghostbusters did?
Read More

New Movies June 13-15: 'Jump Street' and Dragon Training Sequelfest
June 13, 2014 @ 12:35 pm PST
|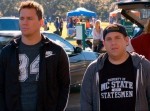 This week's two new releases don't offer anything new, but they're still generating a little excitement, since they're both critically-praised follow ups to big hits. One of the two of them will certainly be a hit, at least for the week, and there's a good chance that they'll both perform satisfactorily.
Read More

Star Wars Secrets: Casting of Young Han Solo
April 19, 2016 @ 4:42 am PST
|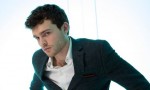 Disney knows that if it's to keep its Star Wars franchise strong for generations to come, it will have to establish a new crop of stars to play roles in the franchise's upcoming films. That's why it's taking them so long to cast a new Han Solo.
Read More


Watch 22 Jump Street Trailer

Official Green Band Trailer
|
2:26
Watch 22 Jump Street Online - Watch online anytime anywhere: Stream, Download, Buy, Rent
22 Jump Street is currently available to watch and stream, download, buy, rent on demand at FuboTV, FlixFling VOD, Amazon, Vudu, Google Play, FandangoNow, YouTube VOD, iTunes online.