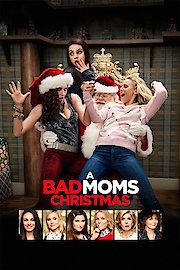 Watch A Bad Moms Christmas
"Celebrate the holidays like a mother."
R
2017
1 hr 44 min
42
A Bad Moms Christmas is a comedy film released in 2017, directed by Jon Lucas and Scott Moore. The film is a sequel to the 2016 blockbuster Bad Moms and features an all-star cast that includes Mila Kunis, Kristen Bell, Kathryn Hahn, Christine Baranski, Cheryl Hines, and Susan Sarandon. The film takes place during the holiday season and follows Amy (Mila Kunis), Kiki (Kristen Bell), and Carla (Kathryn Hahn) as they navigate the stresses of their families coming to stay for Christmas. Things are made even more complicated when their own mothers show up unexpectedly. As they try to balance their responsibilities as mothers and their own desires for a stress-free holiday season, the three women find themselves facing off against their own mothers, who all have their own unique set of quirks and traditions. Amy's mother Ruth (Christine Baranski) is a perfectionist who is obsessed with having the perfect Christmas. Kiki's mother Sandy (Cheryl Hines) is overly attached to her daughter and can't seem to give her any personal space. Carla's mother Isis (Susan Sarandon) is a free spirit who seems to be more interested in partying and having a good time than spending quality time with her daughter. As tensions rise and conflicts ensue, the women must find a way to come together and find common ground in order to make the most of their Christmas holiday. Along the way, they learn valuable lessons about the importance of family and the true meaning of the holiday season. The film is a hilarious and heartwarming look at the challenges and joys of motherhood during the holiday season. The chemistry between Kunis, Bell, and Hahn is excellent, showcasing their abilities as comedic actresses and their ability to bring depth and emotion to their roles. The additions of veterans like Baranski, Hines, and Sarandon only add to the film's strengths, with each actress bringing her own unique humor and style to the table. The dynamic between the six women is a true highlight of the film, with each character adding something special to the story. Despite its comedic tone, A Bad Moms Christmas also manages to offer some poignant insights into the struggles of motherhood and the importance of finding support and solidarity among other women. It's a film that will make audiences laugh, cry, and feel grateful for the love and support of the family and friends in their own lives. Overall, A Bad Moms Christmas is a sequel that lives up to the original film's success, offering a fresh take on the Bad Moms universe while still delivering the irreverent humor and heart that made the first film so beloved. It's a must-see holiday comedy that will leave audiences feeling joyous and inspired.