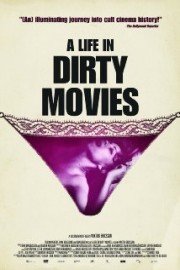 Watch A Life in Dirty Movies
NR
2014
1 hr 20 min
69
A Life in Dirty Movies is a 2013 documentary film that tells the story of Joseph W. Sarno, a pioneer of the sexploitation genre of cinema. The movie explores Sarno's life and career, tracing his journey from a struggling filmmaker to one of the most respected and successful practitioners of erotic movies. The film provides fascinating insights into Sarno's personal life and creative process, including interviews with him and his collaborators, as well as clips from his movies.
The documentary also delves into the socio-cultural context of Sarno's films, which were made during the sexual revolution of the 1960s and 70s. The movie shows how Sarno's work reflected and contributed to the changing attitudes towards sexuality and gender in American society. Furthermore, the documentary depicts how he was able to use his films to subvert mainstream cinematic conventions and create a unique body of work that challenged dominant notions of morality and eroticism.
One of the most compelling aspects of A Life in Dirty Movies is the portrayal of Sarno as a complex and multifaceted artist. The film reveals his fierce dedication to his craft, his love for his wife and collaborator Peggy Steffans, and his profound understanding of human sexuality. The documentary provides a nuanced portrayal of Sarno that goes beyond the stereotypes of the 'dirty movie' director, showing him to be an insightful and perceptive filmmaker who created some of the most thought-provoking and beautiful erotic films of his time.
The documentary also explores the impact of Sarno's work on his collaborators and fans, many of whom credit him with changing their lives and shaping their sexual identities. The film includes interviews with performers and technicians who worked with Sarno, as well as fans who consider his films to be works of art. Through these interviews, A Life in Dirty Movies shows how Sarno's legacy continues to influence and inspire new generations of filmmakers and viewers.
Overall, A Life in Dirty Movies is a rich and illuminating documentary that sheds light on an important figure in the history of American cinema. The movie is a must-watch for anyone interested in the history of sexploitation films, as well as for those who want to understand how cinema can challenge and transform cultural norms. The documentary is a fitting tribute to Joseph W. Sarno, a visionary artist whose work continues to challenge and inspire us today.
A Life in Dirty Movies is a 2014 documentary with a runtime of 1 hour and 20 minutes. It has received mostly positive reviews from critics and viewers, who have given it an IMDb score of 6.6 and a MetaScore of 69.