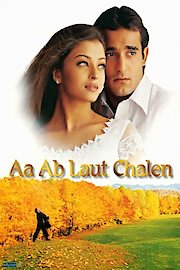 Watch Aa Ab Laut Chalen
1999
2 hr 58 min
Aa Ab Laut Chalen is a romantic drama film directed by Rishi Kapoor and released in 1999. This Bollywood film stars Rajesh Khanna, Akshaye Khanna, and Aishwarya Rai Bachchan in lead roles. The movie revolves around Rohan (Akshaye Khanna), a young man who dreams of making it big in the United States. He leaves his hometown of Delhi to pursue his studies and eventually settles in New York City, where he finds work as a janitor. There he meets Pooja (Aishwarya Rai Bachchan), who is working as a nanny for a wealthy family. Rohan and Pooja fall in love, but their happiness is short-lived when Pooja's employer finds out about their relationship and fires her.
Rohan and Pooja decide to return to India to be with their families. However, upon their arrival, they realize that life in India is not as easy as they remembered. Rohan's family is struggling financially, and Pooja's family is dealing with their own problems. Despite these challenges, Rohan and Pooja remain committed to each other and work hard to improve their situation.
During their time in India, Rohan and Pooja encounter many obstacles, including disapproving family members and cultural differences. However, they remain hopeful and determined to overcome these challenges. Along the way, they are helped by Dev (Rajesh Khanna), Rohan's uncle, who provides them with guidance and support.
The film explores the themes of love, family, and culture clash. It also highlights the struggles of immigrants and the difficulties they face when adjusting to a new country. The story is a poignant reminder that love can conquer all, and that perseverance and hard work can lead to success.
The film's music was composed by Nadeem-Shravan, and the soundtrack includes several popular songs, including "Yehi Hai Pyar" and "Mera Dil Tera Deewana." The film was well-received by audiences and critics alike, and is considered one of the best romantic dramas to come out of Bollywood in the late 1990s.
Overall, Aa Ab Laut Chalen is a heartwarming film that will touch the hearts of viewers of all ages. Its strong performances, engaging storyline, and beautiful music make it a must-watch for Bollywood fans and anyone who enjoys a good love story.
Aa Ab Laut Chalen is a 1999 drama with a runtime of 2 hours and 58 minutes. It has received moderate reviews from critics and viewers, who have given it an IMDb score of 5.3.