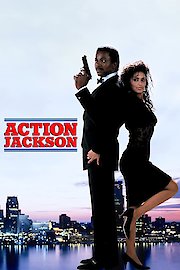 Watch Action Jackson
R
1988
1 hr 36 min
36
Action Jackson is a 1988 American action film directed by Craig R. Baxley and starring Carl Weathers, Craig T. Nelson, and Vanity. The movie is set in Detroit, Michigan and follows the story of Jericho "Action" Jackson, a Police Sergeant, who takes on the corrupt businessman Peter Dellaplane. Jericho Jackson is a tough and uncompromising cop who is called to investigate the murder of a fellow officer. He discovers that his friend's death is linked to Dellaplane, a wealthy businessman, who is involved in drug trafficking and other illegal activities. As Jackson delves deeper into the case, he becomes the target of Dellaplane's goons and has to fight his way out of dangerous situations.
Along the way, Jackson is helped by Patrice Dellaplane, the estranged wife of the villain, who has an axe to grind with her ex-husband. Patrice is a strong and independent woman who is not afraid to take on the bad guys. She and Jackson form an alliance as they work together to bring down Dellaplane and his criminal empire.
As the story progresses, we see Jackson engage in thrilling car chases, explosive shootouts, and brutal hand-to-hand combat. He is a formidable opponent who never backs down from a fight. However, he also has a softer side and is shown to be quite sensitive and caring, especially towards Patrice.
One of the highlights of the movie is the performance of Craig T. Nelson as the antagonist, Peter Dellaplane. Nelson is convincing as the evil businessman who will stop at nothing to maintain his grip on power. He is ruthless and cunning, and his showdown with Jackson is a classic moment in the film.
Another standout performance is by Vanity, who plays the role of Sydney Ash. Sydney is a singer and performer who becomes romantically involved with Jackson. She is strong-willed and independent, and her chemistry with Weathers is palpable.
The film is also notable for its action choreography, which is expertly executed by Carl Weathers. He performs his own stunts, and his athleticism and agility are impressive. The fight scenes are visceral and intense, and the car chases are well-shot and exciting.
Action Jackson was a box office success upon its release and has since become a cult classic. It is a quintessential 80s action movie that delivers on thrills, excitement, and entertainment. The movie has a great soundtrack, which features songs by popular artists of the time such as Pointer Sisters, Chaka Khan, and Herbie Hancock. Overall, it is an enjoyable film that is worth a watch if you are a fan of the action genre.
In conclusion, Action Jackson is a must-watch film for fans of the action genre. It has a great cast, thrilling action sequences, and a kick-ass soundtrack. Carl Weathers shines in the lead role, and Craig T. Nelson is a memorable villain. The movie has everything you could ask for in an action movie and is sure to satisfy the adrenaline junkie in you.
Action Jackson is a 1988 action movie with a runtime of 1 hour and 36 minutes. It has received mostly poor reviews from critics and viewers, who have given it an IMDb score of 5.5 and a MetaScore of 36.