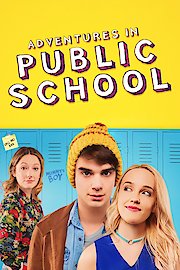 Watch Adventures in Public School
"A rebel without a clue"
TV-14
2018
1 hr 26 min
65
Adventures in Public School is a 2017 coming-of-age comedy film that revolves around the life of a socially awkward teenager named Liam (Daniel Doheny) who has been homeschooled his entire life by his overprotective mother, Claire (Judy Greer). As Liam grows older, he becomes interested in exploring the world outside of his mother's protective bubble and decides to enter public school for the first time.
With his mother's approval, Liam enters public school to finish his senior year, but he quickly finds that he is not used to the craziness of high school. On his first day at school, Liam meets Anastasia (Siobhan Williams), a charming, spontaneous classmate who becomes his love interest. Anastasia and Liam embark on a hilarious journey to help Liam experience all the traditional high school experiences he has missed, like prom, distracting him from his passions, trains.
Liam is immediately thrown into a world of chaos and craziness that is typical of high school life. He finds himself caught up in a variety of hijinks and adventures, from buying drugs for his economics teacher to running for school president. Despite all the madness, Liam's naive, well-intentioned personality endears him to his classmates, and he soon becomes the most popular student at school.
Throughout the movie, Liam's eccentricities and social awkwardness get him into numerous hilarious situations. For instance, he gets teased by his gym teacher because he has never played any sport before. Liam tries to make up for lost time and decides to play badminton with his classmates – much to their amusement. Additionally, Liam becomes the class treasurer and attempts to increase the school's budget, but things go awry when a misunderstanding turns him into an alleged embezzler.
Despite all the chaos, Liam remains determined to make the most of his new public school experience. With the help of his mother and classmates, he throws himself headfirst into each new adventure, becoming increasingly confident and self-assured as a result.
Adventures in Public School is an unapologetically quirky, feel-good movie that will leave you laughing and feeling good. With its heartwarming message, it reminds us that sometimes, in order to grow and find yourself, you need to step outside of your comfort zone.
Overall, the movie is an enjoyable and light-hearted comedy that doesn't take itself too seriously. It showcases the journey of a student who is new to public schools, the challenges he faces, his adventures, and how he learns to find himself in the midst of all the chaos. The charming performances of the talented cast, coupled with the witty writing and imaginative storytelling of director Kyle Rideout, make this movie an enjoyable and entertaining experience for viewers of all ages.
Adventures in Public School is a 2018 comedy with a runtime of 1 hour and 26 minutes. It has received mostly positive reviews from critics and viewers, who have given it an IMDb score of 5.9 and a MetaScore of 65.