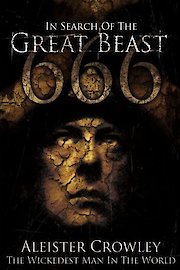 Watch Aleister Crowley: The Beast 666
Aleister Crowley the most well known and influential occult magician of modern times. His admirers saw him as the prophet of a new age, whose goal was a spiritual awakening for all humanity. His detractors denounced him as a Satanist, a drug addict and the wickedest man in the world. This is because his unusual behavior led to misunderstandings and contempt. But his message has always been one of love and will. No matter what you may think of him, the Great Beast, as he called himself, continues to be an influence on the world today.
Aleister Crowley: The Beast 666 is a 2014 documentary with a runtime of 47 minutes. It has received moderate reviews from critics and viewers, who have given it an IMDb score of 6.4.