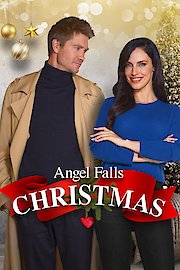 Watch Angel Falls Christmas
2021
1 hr 25 min
In the film Angel Falls Christmas, director Jonathan Wright brings to life a story of love, hope, and family togetherness during the holiday season. Starring Chad Michael Murray, Jessica Lowndes, and David Reale, this 2021 movie is set in the charming town of Angel Falls, where the magic of Christmas never fades. The movie opens with a glimpse into the lives of two families, the Lockes and the Bennetts. As the Lockes gear up for their annual Christmas festivities, the Bennetts fear that their financial struggles will hinder their holiday spirit. However, hope arrives in the form of a generous donor who offers to cover their expenses for the season. When the families cross paths, they discover that their lives are more intertwined than they could have ever imagined.
Chad Michael Murray stars as Jack Lockes, a single father who balances his role as a firefighter with his commitment to his daughter. Murray delivers a nuanced performance as a man attempting to navigate the complexities of parenthood while grappling with unresolved feelings surrounding his previous relationship.
Jessica Lowndes stars as Eve Bennet, a talented musician who yearns for a break in her career but finds her dreams halted by her familial responsibilities. Lowndes' character shines as she grapples with her desire to follow her heart while remaining true to her obligations.
David Reale plays the role of Alex Bennet, Eve's overworked brother who struggles to balance his job as a doctor with his commitment to his family. Reale shines as he delivers a heartfelt performance, depicting the relatable struggles of a man attempting to balance the various aspects of his life.
As the movie progresses, the lives of these three characters intertwine, leading to a series of heartwarming moments that are sure to leave audiences feeling inspired. The film explores themes of empathy, perseverance, and the power of community, reminding viewers of the importance of coming together during the holiday season.
One of the most striking elements of the movie is its stunning cinematography. The town of Angel Falls serves as the perfect backdrop for this story of hope and renewal, showcasing the magic of the holiday season in a way that is both nostalgic and enchanting. The score, composed by Tom Third, also plays a pivotal role in bringing the story to life. The music serves as a backdrop for many of the film's most poignant moments, eliciting emotions of joy, sorrow, and heartache.
Overall, Angel Falls Christmas is a charming film that celebrates the spirit of the holidays. With its relatable characters, stunning visuals, and exceptional performances, this is a movie that is sure to become a beloved addition to any holiday watchlist. Wright has crafted a story that is both heartwarming and uplifting, reminding viewers of the joy that can be found in even the most challenging of circumstances.
Angel Falls Christmas is a 2021 tv movie with a runtime of 1 hour and 25 minutes. It has received mostly poor reviews from critics and viewers, who have given it an IMDb score of 5.0.