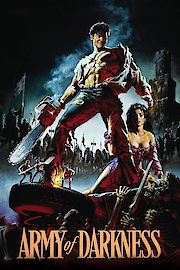 Watch Army of Darkness
"Trapped in time. Surrounded by evil. Low on gas."
R
1993
1 hr 21 min
59
In the third installment of the Evil Dead franchise, Army of Darkness follows protagonist Ash Williams (Bruce Campbell) as he attempts to return to his own time after being sent back in time to the medieval era by the Book of the Dead, an evil tome he had unwittingly awakened in the previous film. Separated from his trusty chainsaw and shotgun, Ash must confront the evil Deadites once again armed only with his wits and a prosthetic hand equipped with a metal gauntlet. He quickly finds himself embroiled in a war between two factions in the medieval kingdom, with the side he chooses determining his chances of successfully retrieving the Necronomicon and getting back to the present day. Along the way, Ash gains a love interest in the form of Sheila (Embeth Davidtz), a beautiful maiden who is initially suspicious of him but eventually comes to trust and rely on him. Marcus Gilbert plays the role of Lord Arthur, the aging ruler of the kingdom, who distrusts Ash but eventually sees the value in his unconventional tactics and comes to view him as an ally. As the film progresses, Ash must navigate a series of challenges and obstacles in order to retrieve the Necronomicon and make his way back to his own time. This includes battling hordes of Deadites, fighting a possessed version of himself, and working to prove his worth to the skeptical inhabitants of the kingdom. Along the way, Army of Darkness features a number of memorable scenes, including the infamous "Boomstick" sequence in which Ash shows off his shotgun to the medieval knights, and a climactic battle sequence in which he leads an army of medieval soldiers against the demonic Deadites. Overall, Army of Darkness is a fast-paced and entertaining horror-comedy that blends elements of action, adventure, and romance into a uniquely enjoyable cinematic experience. With strong performances from its cast, particularly Bruce Campbell as Ash, and imaginative practical effects, it is a worthy conclusion to the Evil Dead trilogy and a cult classic in its own right.