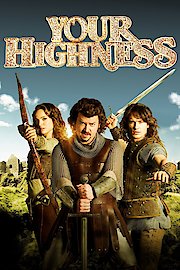 Watch Your Highness
"Get your quest on."
R
2011
1 hr 43 min
31
Your Highness is a 2011 fantasy-comedy film directed by David Gordon Green and written by Danny McBride and Ben Best. The movie stars Danny McBride, James Franco, and Natalie Portman in lead roles. Your Highness is an outrageous and hilarious parody of the fantasy-adventure genre, combining medieval sword and sorcery with modern comedy.
The movie tells the story of a lazy, arrogant and spoiled Prince Thadeous (Danny McBride), who lives in the shadow of his skilled and handsome older brother, Prince Fabious (James Franco). When Fabious' bride-to-be, Belladonna (Zooey Deschanel), is kidnapped by evil wizard Leezar (Justin Theroux) in hopes of using her for a ritual to impregnate her with a dragon, the brothers set out on a quest to rescue her.
Along with elusive warrior Isabel (Natalie Portman), the trio encounters a host of bizarre creatures and characters, including two-headed monsters, a wise wizard, a possessed virgin, and the vilest of villains. Thadeous proves to be more of a hindrance than a help on the journey, as he's out of shape, hungover, and often cowardly.
With McBride's trademark dry comedic delivery, Franco's earnest conviction, and Portman's fierce fighting skills, the trio delivers a riotous adventure that's as thrilling as it is funny. Your Highness also parodies other classics from the fantasy genre, utilizing well-known tropes to hilarious effect. There are jousting tournaments, mystical quests, and magical talismans; all delightfully skewered by the film's absurdist humor.
The film's visually stunning sets and special effects are also noteworthy. From the over-the-top battle scenes to the spine-chilling villainous lairs, the film's production design and effects team never fail to amaze with their attention to detail.
Your Highness is not for everyone, as it has a strong emphasis on crude humor, sexual innuendo, and vulgar language. It's also worth noting that some of the humor can be offensive to some viewers. However, if one can tolerate or even appreciate these kinds of jokes, the movie can be a lot of fun. The chemistry between the three leads works well, and the supporting cast is outstanding, including comedians Toby Jones and Rasmus Hardiker.
In conclusion, Your Highness is a wild ride that is sure to have audiences laughing throughout. The combination of action, adventure, and comedy provides plenty of entertainment, making this movie a great choice for those looking for something light and humorous. If you're a fan of films like Monty Python and the Holy Grail or The Princess Bride, there's a good chance you'll enjoy the absurdity of Your Highness.
Your Highness is a 2011 comedy with a runtime of 1 hour and 43 minutes. It has received mostly poor reviews from critics and viewers, who have given it an IMDb score of 5.5 and a MetaScore of 31.