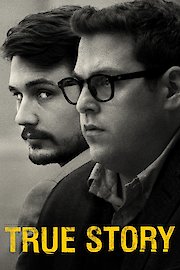 Watch True Story
"Some mysteries are beyond belief."
R
2015
1 hr 39 min
50
True Story is a 2015 American mystery thriller film that is based on the true story of the disgraced journalist Michael Finkel and the convicted murderer Christian Longo, based on their relationship as portrayed in Finkel's memoir True Story: Murder, Memoir, Mea Culpa. The film stars James Franco as Christian Longo, a man accused of killing his wife and three children and disappearing. Jonah Hill plays Michael Finkel, a journalist at The New York Times who has just been fired from his job after it was discovered that he had fabricated parts of a story he wrote. One day, he receives a call from Longo, who has been caught in Mexico under Finkel's name. Longo tells Finkel that he was a fan of his work, and they begin a phone and correspondence relationship.
The movie follows Finkel as he tries to unravel the truth behind Longo's story, and why he would use Finkel's name as a cover. The journalist travelling to meet Longo in prison with the hopes of writing a book about his story. Finkel becomes desperate to redeem himself in the eyes of the public and his editors, and Longo is just as desperate to have his story told. As their relationship intensifies, Finkel starts to question Longo's truthfulness about his alleged murders.
Throughout the film, the audience is taken on a journey that unveils the dark sides of both men's lives. They both seek redemption and to be understood, and their interactions can be seen as a map of the frustrations and mistakes that all humans make. However, they go past that point, and their respective crimes become the obstacle that prevents any catharsis.
Both Jonah Hill and James Franco deliver powerful performances in the film. Franco plays Longo with a quiet intensity, not giving away too much of himself until it is required for the plot. He almost seems like he is playing himself. Hill, on the other hand, plays Finkel with a degree of nervousness and urgency, which makes his character's desperate search for redemption understandable.
The real star of the movie may be Felicity Jones, who plays Finkel's patient and understanding girlfriend Jill. As Finkel attempts to redeem his career, he becomes increasingly distant and neglectful of Jill. She provides stability and perspective that keep Finkel grounded throughout.
The film's pacing is slow, methodical, and perfect for building suspense. The soundtrack is haunting, giving the movie even more of a ghostly feel. The costumes, set design, and camera work are all expertly done, and the movie doesn't suffer from any glaring technical issues.
Overall, True Story is a gripping and engrossing film despite not having much action or gore. It is the story of two men with imperfect lives, who seek to understand each other in a way that is at once humanizing and distressing. It's a film that requires attention and patience from the audience, but the payoff in the end is well worth it.
True Story is a 2015 crime movie with a runtime of 1 hour and 39 minutes. It has received mostly poor reviews from critics and viewers, who have given it an IMDb score of 6.3 and a MetaScore of 50.