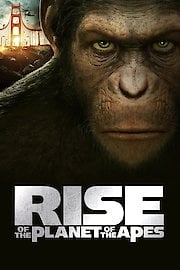 Watch Rise of the Planet of the Apes
"Evolution Becomes Revolution."
PG-13
2011
1 hr 45 min
68
Rise of the Planet of the Apes is a prequel to the widely acclaimed Planet of the Apes movie series despite the fact that it doesn't perfectly fit in with that continuity. Despite that, the movie does make several references to other events in the Planet of the Apes mythology, such as the astronauts from the original film. This movie takes place in the modern era and focus on a biochemists named Will Rodman and his elderly father who has Alzheimer. This leads to experiments on lab chimps in an effort to find a cure for the disease. When the big experiment is deemed a failure, Will decides to adopt a baby chimp instead of having it disposed of as is standard lab procedure.
The baby chimp, named Caesar, quickly begins to show signs of advanced intelligence due to the experiments done on his mother. He even possesses the ability to communicate with Will using sign language and shows tremendous intellectual potential. However, as his sense of self-awareness grows, so does his realization that he is different from humans and doesn't fit in with them. This culminates in an incident in which Caesar is locked up in an animal control facility with other apes after he attacks a neighbor in an attempt to protect Will's father.
Using his heightened intelligence, Caesar quickly becomes the ringleader in the animal control facility, despite the torment inflicted on him by one of the workers. Meanwhile, since Caesar was viewed as a successful experiment, more tests are being done on lab chimps using the same chemicals that gave Caesar his incredible intelligence. This later proves to be the factor that gives Caesar, who's intelligence is now equal to that of a human, the ability to make more of his kind.
Rise of the Planet of the Apes is in many ways more about Caesar and his character development than it is about Will Rodman. Caesar's journey of self-discovery leads him to some incredible highs and lows as he comes to realize that ultimately he's only viewed as a pet at best, and an animal at worst. Despite the strong bond between Caesar and Will, the chimp soon realizes that he can never be accepted by humans as an equal. In the end Caesar finds a place to belong among his own kind but what is a triumph for Caesar, despite his good intentions, is the beginning of the end for humanity.
Rise of the Planet of the Apes is a 2011 thriller with a runtime of 1 hour and 45 minutes. It has received mostly positive reviews from critics and viewers, who have given it an IMDb score of 7.6 and a MetaScore of 68.