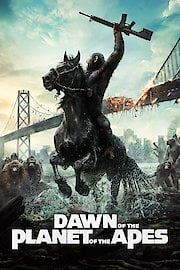 Watch Dawn of the Planet of the Apes
"One last chance for peace."
PG-13
2014
79
In this fantasy thriller, a group of intelligent apes struggles to dominate a world in which the human population has been ravaged by a deadly virus. There are still human survivors, though, and they're not eager to give up their dominance of the planet. This is the second film in a contemporary franchise that serves as a prequel to the classic Planet of the Apes films.