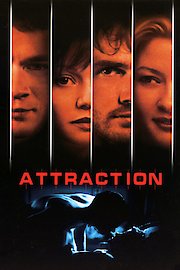 Watch Attraction
"Obsession burns beyond control."
R
2001
1 hr 35 min
This romantic thriller movie debuted in theaters in 2001. It was originally called Stalk. The movie is about how Mathew, a writer and radio host still hasn't gotten over his ex-girlfriend Liz. He begins to follow her in a desperate attempt to win her back over. Meanwhile her new boyfriend, has some plans of his own and begins to play a trick on Mathew. Will the trick by his ex's new boyfriend work or will it backfire and bring him back his old lover?
Attraction is a 2001 thriller with a runtime of 1 hour and 35 minutes. It has received moderate reviews from critics and viewers, who have given it an IMDb score of 5.1.