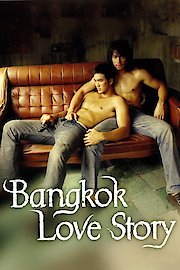 Watch Bangkok Love Story
"Love is Dangerous."
This fascinating motion picture tells the tale of two men who come from opposite ends of the spectrum, only to become one in the most taboo of ways. Maek is a cold-blooded assassin who works as a contract killer. He has committed a lot of violent crimes in his life and now he has been given his new task. The man Maek has been given orders to kill is Iht, who acts as a police informant. Upon the two meeting, Maek finds he cannot pull the trigger and is fired upon himself. Iht decides he wants the task of nursing Maek back to health, but what ensues during the two's time together, is nothing short of a deep, dark romance.