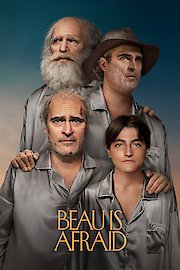 Watch Beau Is Afraid
"From his darkest fears comes the greatest adventure."
R
2023
2 hr 59 min
63
Following the sudden death of his mother, a mild-mannered but anxiety-ridden man confronts his darkest fears as he embarks on an epic, Kafkaesque odyssey back home.
Beau Is Afraid is a 2023 comedy with a runtime of 2 hours and 59 minutes. It has received moderate reviews from critics and viewers, who have given it an IMDb score of 7.0 and a MetaScore of 63.