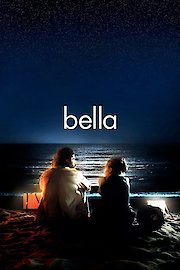 Watch Bella
"One person can change your life forever"
PG-13
2006
1 hr 31 min
47
Nina works as a waitress in a Mexican restaurant in New York City. Jose also works in the same restaurant as a cook. Nina never misses a single day from work. But, recently she remains absent for two consecutive days. This infuriates the restaurant owner Manny and he decides to fire her. Unfortunately Nina loses her only job and walks out of the restaurant for the very last time. Jose is hurt by this incidence, but he is unable to do something for Nina. He decides to follow Nina as she walked past the restaurant door. Nina immediately updates him with the fact that she is expecting a child but she is not at all ready for a baby. She believes that she is in no position to raise a child at this moment and hence, decides to go for an abortion.
Jose than takes Nina home and introduces her to his parents. He also reveals his sad past to Nina which always haunts him, day and night. In the past Jose had killed a little girl accidently while driving and he served four long years in prison. Jose even took Nina to his garage and pointed out the car which bought him so much pain and agony.
In the meantime Nina visits the beach which is close by Jose's home. She says to Jose that he is a fortunate person to have such wonderful parents. She also tells Jose that she had a very sad childhood because her father expired when she was merely 12 years old. The demise of her father left her and her mom in a disturbed emotional state.
Nina and Jose finally walk down their very own paths. Jose keeps on working at the restaurant, in the hope of never to meet Nina again. After several years Jose meets with Nina at the beach along with his adopted daughter Bella who is actually the daughter of Nina.
Bella is a 2006 drama with a runtime of 1 hour and 31 minutes. It has received mostly poor reviews from critics and viewers, who have given it an IMDb score of 7.1 and a MetaScore of 47.