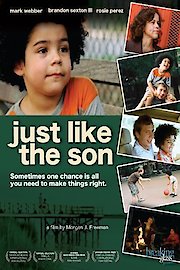 Watch Just Like the Son
"Sometimes you have to do the wrong thing to make things right."
PG-13
2006
1 hr 26 min
A 20 year old named Daniel hopes to find redemption by helping a 6 year old find a better life. The 6 year old is named Boone. Boone doesn't show up one day like he usually does so Daniel starts to look for him. Daniel realizes that Boone has a sister in Dallas and wonders why he is in foster care instead of living with her. Daniel decides that he is going to try to adopt but he didn't meet the requirements and his own dad wouldn't help him. So Daniel sets of to find Boone and take him to Dallas to be with his sister.