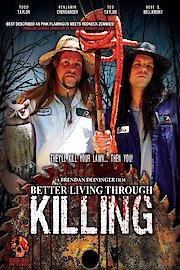 Watch Better Living Through Killing
"They'll Kill Your Lawn...Then You!"
NR
2008
1 hr 38 min
Witness murder without shame as homicidal lawn care workers Otis and Welford Moses realize a Better Living Through Killing! It's not that they hate people - they just like them better dead! See people massacred with baseball bats, rusty saws, lawn tools, and even a cat's scratching post! The only problem is that the long arm of the law is hot on their trail! Oh... and there is a talking owl named Bonaparte who guides the Moses brothers on their killing spree. B-Independent.com describes Bonaparte as having: "the same sort of foul-mouthed Shakespearean rhetoric spewed forth by the great R. Lee Ermey in FULL METAL JACKET" Wow! Don't miss this year's feel good hit! And don't miss a special appearance by director Daniel Boyd (Invasion of the Space Preachers, Chillers) Seriously... what are you waiting for?!! It's time for you to experience a Better Living Through Killing!!!