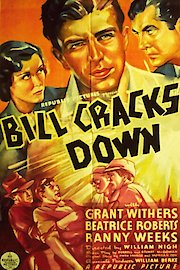 Watch Bill Cracks Down
Passed
1937
53 min
Bill Cracks Down is a hard-boiled, fast-paced crime drama from 1937 that stars Grant Withers as Bill, a police officer with a reputation for being tough on crime. The movie follows Bill as he investigates a series of murders that appear to be connected to a gang of counterfeiting criminals operating in the city. Bill is a dedicated police officer who always puts his job first. He is known for his no-nonsense approach to law enforcement, and his willingness to take risks in order to get results. His partner in the investigation is Jimmy (Ranny Weeks), a young, inexperienced officer who is eager to prove himself as a capable member of the force.
As the investigation into the murders unfolds, Bill and Jimmy discover that the crimes are linked to a gang of counterfeiters who are using the murders as a cover-up for their criminal activities. The gang is led by a mysterious figure known only as "The Big Boss," who has a vast network of criminal connections throughout the city.
Bill and Jimmy's investigation takes them all over the city, from the docks where the counterfeiters smuggle in their equipment to the seedy back alleys where they conduct their illicit business. The two officers are relentless in their pursuit of justice, even when it means putting themselves in danger.
Along the way, Bill also becomes involved with a beautiful nightclub singer named Lorna (Beatrice Roberts). Lorna has ties to the counterfeiters, but she is also in love with Bill and wants to help him bring them to justice.
As the investigation heats up, the gang begins to target Bill and Jimmy, and the two officers find themselves in a race against time to catch the criminals before they can strike again. The tension builds to a thrilling climax as Bill and Jimmy face off against the dangerous gang and fight to bring them to justice.
Overall, Bill Cracks Down is a gripping crime drama that will keep you on the edge of your seat from beginning to end. With its hard-boiled dialogue, fast-paced action, and strong performances from Grant Withers, Beatrice Roberts, and Ranny Weeks, it is a must-see for fans of classic film noir and crime thrillers. If you're looking for a movie that will keep you guessing until the very end, Bill Cracks Down is definitely worth a watch.
Bill Cracks Down is a 1937 action movie with a runtime of 53 minutes. It has received moderate reviews from critics and viewers, who have given it an IMDb score of 5.6.