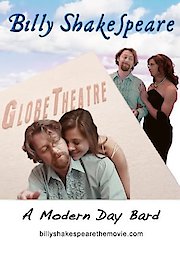 Watch Billy Shakespeare
2014
1 hr 42 min
Billy Shakespeare is a 2014 independent film directed and written by Barry Avrich. This romantic comedy follows the struggles of Billy, an aspiring playwright who is struggling to make ends meet. Despite his talent, Billy cannot seem to catch a break, until he meets the woman of his dreams. The movie is set in modern-day Los Angeles, where Billy (Jason D. Johnson) and his best friend Stan (Phillip David Collins) are struggling to get their plays produced. In an effort to make ends meet, Billy takes a job as a janitor at a local theater, where he meets and falls in love with Viola (Catharine E. Jones).
Viola is everything Billy has ever wanted in a woman: smart, independent, and passionate about theater. They quickly bond over their shared love of drama and writing, and Billy is thrilled to have found someone who understands him. But there's a catch - Viola is engaged to another man.
Determined to win her heart, Billy decides to write a play inspired by his love for Viola. He asks her to star in it, hoping that the experience will bring them closer together. Viola is hesitant at first - after all, she is engaged to be married. But she agrees to give it a try, and the two begin working together on the production.
As they spend more time together, Billy and Viola's feelings for each other grow stronger. Billy is convinced that they are meant to be together, and he sets out to win Viola's heart once and for all. But the path to true love is never easy, and Billy must navigate a series of obstacles along the way.
One of the most challenging obstacles they face is the theater's director, who is less than enthusiastic about Billy's play. He's convinced that it's a flop, and he does everything he can to sabotage the production. He cuts funding, limits rehearsal time, and even hires an actor to replace Viola.
Despite these setbacks, Billy remains determined to see his play come to life. He pours his heart and soul into the production, and the result is a beautiful and moving piece of theater that captures the hearts of its audience. But will it be enough to win Viola's heart?
Overall, Billy Shakespeare is a charming and heartfelt romantic comedy that will resonate with anyone who has ever struggled to pursue their dreams. It's a story about love, friendship, and the power of creativity to overcome even the greatest obstacles. With great performances from its talented cast and a witty script that blends comedy and drama with equal measure, this movie is sure to delight audiences of all ages.
Billy Shakespeare is a 2014 comedy with a runtime of 1 hour and 42 minutes. It has received mostly positive reviews from critics and viewers, who have given it an IMDb score of 7.1.