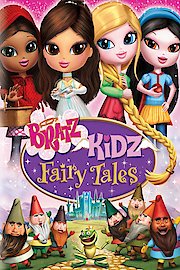 Watch Bratz Kidz - Fairytalez
G
2008
1 hr 6 min
Bratz Kidz - Fairytalez from 2008 is an animated movie directed by Phil Weinstein and produced by Mike Young Productions. The movie features the popular Bratz characters, including Cloe, Yasmin, Sasha, and Jade, who are shown in a new, fairytale-inspired adventure. The movie starts by showing the Bratz Kidz playing in their backyard. Soon after, they discover a magical fairy book which takes them to a fairytale land where they encounter several famous fairy tales like Snow White, Cinderella, and Rapunzel. As they make their way through this magical world, they must overcome various obstacles and help the fairy tale characters complete their stories.
Cloe plays the character of Snow White, Yasmin is Cinderella, Sasha portrays Puss in Boots, and Jade is Rapunzel. The four friends must work together to help each character get their happily ever after. The twist is, that they are not only characters in the story but help characters complete their stories.
The girls soon encounter a wicked witch named Queen Skyla, who wants to take control of the fairy tale world. To defeat her and save the day, the Bratz Kidz must rely on their wits and teamwork to overcome obstacles and help their new friends.
The movie features colorful animation, with bright and detailed scenes that bring the magical world to life. The soundtrack is also engaging and suits the fairytale theme. The movie is aimed towards young children, but the message of teamwork and friendship can be enjoyed by all ages.
Overall, Bratz Kidz - Fairytalez from 2008 is a fun and entertaining movie that will leave children mesmerized by the magical world and the adventures of their favorite Bratz characters. It is a great addition to any family movie night and will keep children hooked until its satisfying conclusion. The movie encourages children to work together and underscores the importance of friendship, a valuable lesson that can be applied in real life.