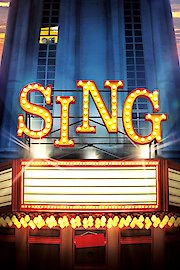 Watch Sing
"Auditions begin 2016."
PG
2016
1 hr 48 min
59
Sing is a 2016 animated musical comedy film that features an all-star cast including Matthew McConaughey, Reese Witherspoon, and Seth MacFarlane. Set in a world of anthropomorphic animals, the film follows a failing theater owner named Buster Moon (voiced by McConaughey) as he tries to save his struggling business by hosting a singing competition.
However, due to a mistake, the prize money is advertised as $100,000 instead of $1,000, leading to a flood of talented animal performers auditioning for the competition. Among the contestants are Rosita, a devoted mother and housewife pig (Witherspoon), Mike, a crooning mouse with a big ego (MacFarlane), Ash, a punk rock porcupine (Scarlett Johansson), Johnny, a gorilla with a heart of gold (Taron Egerton), and Meena, a shy elephant with a remarkable singing voice (Tori Kelly).
As the competition heats up, the lives of the contestants intersect in unexpected ways as they chase their dreams and try to overcome their personal obstacles. Along the way, they learn valuable lessons about friendship, perseverance, and the power of music to bring people (and animals) together.
The film is directed by Garth Jennings, who expertly weaves together catchy musical numbers with heartfelt moments of emotion and humor. Each character is given their own arc and development, which allows the audience to become fully invested in their journey. The animation is stunning, with vibrant colors and inventive character designs that make each animal performer unique and memorable.
The voice cast is exceptional, with each actor bringing their own charm and personality to their respective characters. McConaughey perfectly captures the lovable desperation of Buster Moon, while Witherspoon is both hilarious and touching as the overworked Rosita. MacFarlane is the perfect choice for the cocky but talented Mike, and Johansson brings a rebellious spirit to Ash. Egerton displays an impressive singing voice as Johnny, and Kelly is simply breathtaking as Meena.
Watch Sing Online for a feel-good musical adventure that will have you tapping your toes and singing along. It's a film that celebrates the power of music and the importance of never giving up on your dreams, no matter the obstacles in your way. Sing is a film that will leave you with a smile on your face and a song in your heart.
Sing is a 2016 animated movie with a runtime of 1 hour and 48 minutes. It has received moderate reviews from critics and viewers, who have given it an IMDb score of 7.1 and a MetaScore of 59.